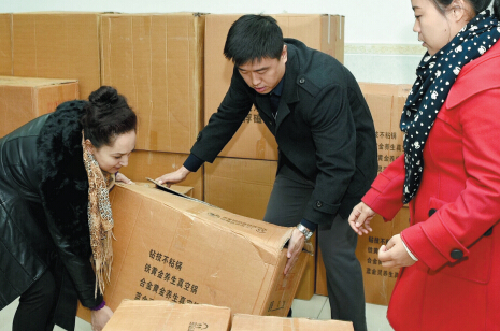 Zhagn Kuo (center), president of Skyworth Group's northern Xinjiang branch, helps load donations together with staff members of the Karamay Disabled Persons' Federation in Karamay, Xinjiang Uygur autonomous region, on Nov 18. [Photo/epaper.kelamayi.com.cn]
Lu Zhiqiang, a Fudan University alumnus and the founder of China Oceanwide Holdings Group, donated 700 million yuan ($100.8 million) to the university through the Oceanwide Foundation on Monday. He said the donation is to encourage innovation and entrepreneurship on campus, support overseas exchange programs, help students from poor backgrounds, introduce high-end talent into the faculty and develop the teaching facility. The Beijing News said universities should offer more support to students so they feel willing to give something back when they are successful in life:
Such a huge donation will not only improve the university's teaching and research, but also support the better development of students.
The donation is not the largest ever. Huang Nubo, a real estate businessman and Peking University alumnus, made two separate donations of 900 million yuan and 1.02 billion yuan to Peking University. But in general, donations to universities by alumni tend to be low.
Such donations are a significant indicator of alumni identifying with their universities and an important supplementary financial source for academic institutions in countries such as the United States; for some famous US universities they account for a large part of the operating costs.
The occasional generosity bestowed by wealthy Chinese on their universities can't compete with their counterparts in the US. Reportedly, 80 US universities received donations from alumni averaging $10 million dollars, and 30 to 40 percent of the alumni from less well-known US universities still donate to their alma maters.
Compared to Chinese universities, their foreign counterparts receive more support and acceptance from their alumni. This is because they serve and care for the students from the very beginning of their enrolment. Because of the more caring environment, it is natural for graduates who achieve success to want to give something back. Also, foreign universities attach greater importance to fund-raising among the alumni. Good management of the donations is the key to using them to help other students achieve success.