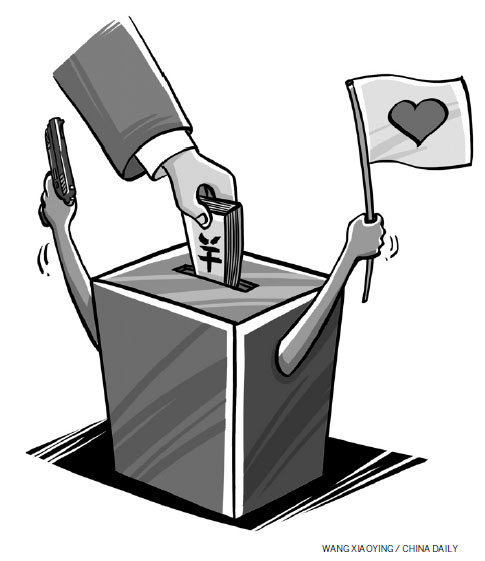 Many organizations, companies and celebrities have generously donated to help the victims of last week's explosions in Tianjin. But reports of blackmailing tactics or force being used to get donations have shocked people.
School teachers in Nankai district of Tianjin were reportedly asked to give a certain amount of money, or to be exact had the amount directly deducted from their salaries, as donations for the blast victims. After the move was severely criticized on the Internet, the Nankai district government said on its official Weibo account that the donation "campaign" was organized at the behest of local Party officials.
Besides, the deadly explosions also sparked an online debate on whether or not Jack Ma, China's second-richest man and founder and executive chairman of Alibaba Group, should donate a big amount to help the Tianjin victims.
The reasons netizens have cited for Ma to donate are roughly of two kinds: Ma should donate because he has tons of money or because other wealthy people and celebrities have already donated. Some netizens have even threatened to quit using Taobao, Alibaba's online shopping site, if Ma doesn't. What the netizens refuse to acknowledge is that donation is not a legal obligation for anyone, the rich included.
Donation should be a voluntary act. No one can coerce a person to donate for a cause irrespective how noble it is. Any force applied to extract a donation from a person is a violation of the Welfare Donations Law, which says "donations should be made on a voluntary and non-reimbursable basis", and "any forced apportion or any covert act of apportion is prohibited". Therefore, no one has the right to ask an individual to engage in philanthropy against his/her will or, to be more specific, to donate money no matter how wealthy he/she is.