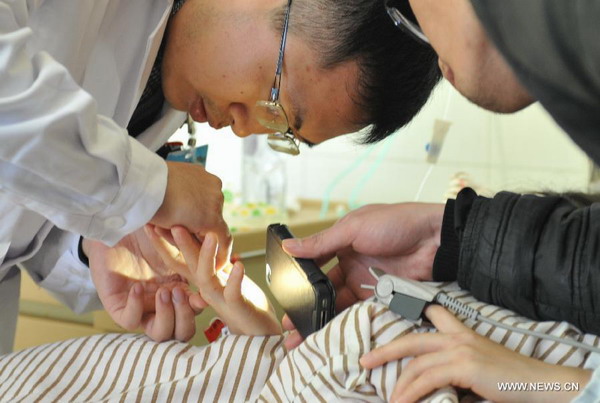 A doctor removes glass from a victim's hand who is injured of a bus fire at the No.1 Hospital in Xiamen,Southeast China's Fujian Province, Jan 15, 2015.[Photo/Xinhua]
Chinese actress Li Bingbing reportedly suffered a high fever in Australia for more than half a month, and had to fly back to China for medical treatment because the local hospital failed to diagnose her illness. Li's story gave rise to heated discussions among Chinese netizens over the state of medical services at home. People's Daily says that the country's ongoing medical reform needs to be pushed forward to improve the services offered to patients and the working conditions for doctors:
Despite Li Bingbing's frustration that the Australian hospital failed to diagnose her illness, it is also important not to ignore the fact many Chinese patients face similar problems at home. That some Chinese prefer to go to foreign hospitals, many of which are enhancing their presence in the Chinese market, has a lot to do with the fact that China's medical resources still lag behind those in developed countries.
n particular, the shortage of quality doctors has become a major obstacle. The country's first Internet hospital which recently opened in Wuzhen, East China's Zhejiang province, might make it easier for residents to get medical diagnoses. However, the fundamental cure to the current problems in the country's healthcare provision lies in a comprehensive overhaul of the medical system that simplifies and optimizes the procedures patients have to go through to get treated.
True, most residents covered by the nationwide medical reform now have medical insurance, but there is still a mountain to climb when it comes to improving doctors' welfare and well-being. Medical staff deserve to be better paid, as the charges for medical services have basically remained at the level they were in the 1990s. While some doctors have even died at a young age due to overwork.
Medical staff are also entitled to more respect from society, because China only has about 3 percent of the world's medical resources to take care of one-sixth of the global population, which is hardly sustainable. Therefore, the government should neither overstate nor understate the difficulties faced by most Chinese. It should aim to ease the long-standing tensions between doctors and patients and push forward medical reform.