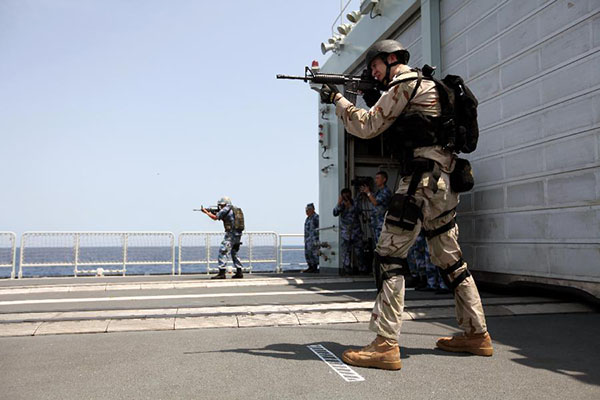 Chinese and US soldiers participate in joint counter-piracy exercise on the missile destroyer "Harbin" of Chinese navy in the Gulf of Aden, in this Aug 25, 2013 file photo. [Photo/Xinhua]
By expressing what it called "serious concerns" about China's draft counterterrorism law, the United States is wantonly compromising the global efforts to fight terrorism.
The US has alleged the law will do more harm than good against the threat of terrorism, but such accusations are based on neither truth nor reason, and naturally have met with strong opposition from China.
The planned legislation imposes greater restrictions on the exercise of freedoms of expression, association, peaceful assembly and religion within China, and constricts US trade and investment in the country, US State Department spokeswoman Gabrielle Price claimed on Tuesday.
Yet in fact, the draft legislation on counterterrorism conforms to the new developments and rising challenges being encountered in the global fight against terrorism and will contribute to international efforts to combat extremism and terrorism.
The law, which is expected to be adopted by the end of the year, embodies China's latest efforts to safeguard national and public security and the safety of people's lives and property.
Legislators said they have tried their best to strike a balance between combating extremism and protecting people's legitimate rights. Under the draft law, the security authorities will have to follow "strict approval procedures" to access people's phone and Internet communications, and the information obtained can only be used for counterterrorism purposes.
By pointing an accusing finger at the counterterrorism legislation and claiming it will restrict human rights in China, the US is once again adopting the guise of a self-appointed champion of human rights to meddle in the internal affairs of another country.
After the terrorist attacks on Sept 11, 2001, the US adopted a series of measures to enhance its national security, and some of them were highly contentious both at home and abroad.
Likewise, a series of attacks on civilians in China instigated by extremists in recent years have compelled the Chinese government to take more forceful measures to tackle extremism and terrorism on its soil.
The US' double standards and condescending manner will only erode its own credibility and by linking the draft law with US trade and investment in China it will harm bilateral cooperation, and thus hurt its own interests.
As such, the US really needs to use a fairer lens to look at China's forthcoming law, so if not free of prejudice at all, it can view it in a more objective manner.