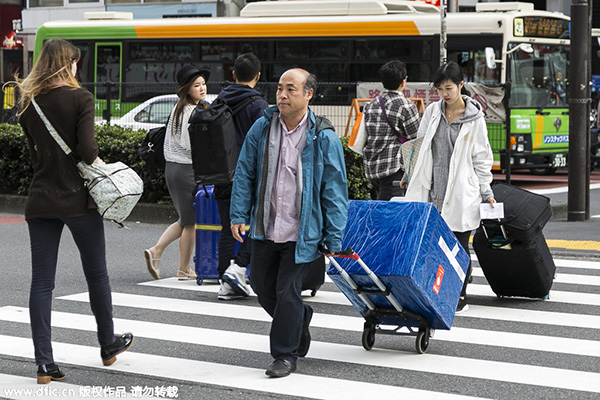 Chinese tourists hold their shoppings in Shinjuku shopping district during the China National Day Golden Week holiday on October 5, 2015, Tokyo, Japan. [Photo/IC]
As part of its efforts to improve the image of Chinese tourists overseas, the National Tourism Administration recently made public the names of five tourists blacklisted for "uncivilized behavior".
This brings the number on the list to 16.
Over the one to three years that such a record will remain, those on the list can be refused service by travel agents, airlines, hotels and scenic sites.
Given that uncivilized behavior by domestic tourists has been frequently exposed in recent years, such a list is indeed necessary as it can help rein in wrongdoers and potentially deter other tourists from behaving badly.
The occasional uncivilized behavior of some has stained the image of Chinese tourists as a group. Many Chinese who have travelled abroad said they felt ashamed to see notices specially written in Chinese reminding people to observe some basic social norms.
The speed with which descriptions or video clips of uncivilized behavior have spread via social media, which usually invite widespread derision and even cause an online manhunt for the perpetrators, also indicates Chinese people's growing intolerance of "offenses" that were previously viewed as unimportant.
Although Chinese tourists are generally welcomed, well-behaved Chinese tourists are having to pay the bill for the misdeeds of a handful of their counterparts by being tarred with the same brush.
A raised awareness of "civilized behavior" needs to be developed as more Chinese tourists travel abroad as part of their lifestyle. At home, the country's bid to transform itself into a consumption-led economy also means more efforts are needed to raise the quality of tourists as part of its efforts to boost the domestic tourism industry.
The tourism authority's latest move to punish tourists who behave badly is a positive step in this direction.