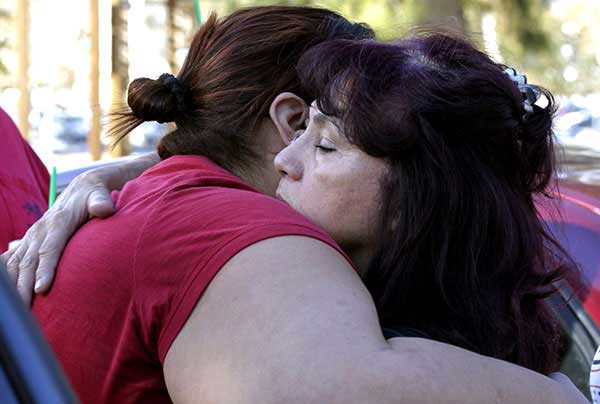 Teresa Hernandez (right) and Monique Gutierrez hug at the Rudy Hernandez Community Center as they wait for a relative, who was not injured, after the shooting rampage. [Photo/Agencies]
US President Barack Obama delivered a rare televised primetime address to the American people detailing his administration's response to the threat of terrorism and the fight against the Islamic State group.
The United States is still reeling from the mass shooting in California which left 14 dead, and Obama obviously wanted to dispel fears of any more terrorist attacks in the US and build confidence in the international efforts to defeat IS in Iraq and Syria.
However, those looking for a fundamental shift in strategy were left disappointed as Obama's Sunday speech from the Oval Office was more about specific tactics.
Describing the California shooting as an "act of terrorism", Obama reached out to the American Muslim community, saying it needs to be a partner in the fight against radical Islam as Muslims can send credible, effective counter messages to undermine jihadist propaganda.
He also called on the US Congress to pass new authorization for military actions against IS in Iraq and Syria, and urged private companies and law enforcers to work together to ensure potential attackers cannot use technology to evade detection.
These are necessary messages and measures. But the rest of the world demands more of the world's sole superpower.
Admittedly, there have been positive developments in the US-dominated war against terrorism in the past 14 years, such as the significant degradation of al-Qaida and improved intelligence systems that have helped uncover and neutralize terrorist plots.
But the Paris attacks, the mass shooting in California, the subway stabbing in London and the terrorist attacks in other countries, including Lebanon and Kenya, are clear evidence that the IS group can still instigate attacks against civilized societies.
The US needs to come up with both effective prescriptions and long-term strategies for defeating the terrorist group.
The US and the Western world at large refuse to admit that the wars in the Middle East have sowed fear and hatred among the Muslim world and such sentiments have in turn created a breeding ground for extremists.
Western countries such as France, Germany and the UK have stepped up efforts and coordination to carry out air strikes against IS targets. But the US, despite intensifying its "war on terror", is yet to change its predilection to intervene in the affairs of other countries, which has precipitated the need for such military actions now, especially in the Middle East.