His baby son's poor sleeping habits were the "blasting fuse"that ignited Zhu Xiaoke's decision to quit his job 10 months ago and temporarily become a full-time dad.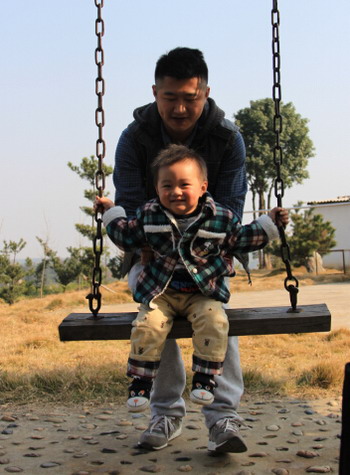 Zhu Xiaoke and his son. [photo provided to chinadaily.com.cn]
"He used to sleep too much in the afternoon and didn't sleep after midnight, which was a big headache for me," said Zhu Xiaoke, a post-1980s father from Changde, Central China's Hunan province.
The child, who was born in May 2012, was being cared for by his grandparents. The father thought his son would be naughty when he grew up. Apart from handling some daily necessities, his grandparents could not put more energy into his education.
"Time flies, and perhaps 4 or 5 years after they're born, you may find that it's too late for you to walk into their world because they already have their own friends," he said.
"This is a key period that shapes a child's character and behavior," so after discussing it with his family, Zhu quit his job to better care for his son. "His mother is not a details-oriented person and his grandma suffers from high blood pressure," Zhu said.
Zhu held a well-paid job at a foreign company in Changde and had saved some money. His wife also had a good job, so his resignation had little impact on his family's economic situation.
Zhu thinks he is the kind of man who always puts family first and pays more attention to children with regards to raising and educating them.
"First, I became a fan of several parenting experts on Weibo, a Twitter-like network, and recorded some notes about infant daily life and education. Then I hit the road to play as a stay-at-home dad," he said.
At the same time, he got useful and practical suggestions on nutrition and medicine for babies from experienced full-time moms on WeChat, a free messaging and calling app. Two months later, he reaped his reward as his son developed many sound habits, including sleeping on schedule and learning to use the toilet himself.
Zhu said his nearly one year turn as a stay-at-home dad wasn't a thorny job as he thought. "Patience, carefulness and diligence are the key points to help a child have a happy childhood. And that's why I am a father," he explained.
Besides gaining plenty of parenting knowledge, Zhu said he also learned another valuable lesson: that he is a role model for his son.
This year, as his son adapted to kindergarten, Zhu started pondering his own future. "I think my role is getting more and more important as my son grows up day by day. Therefore, I will go back to work to show him that his father has another role as a pillar to support a family."