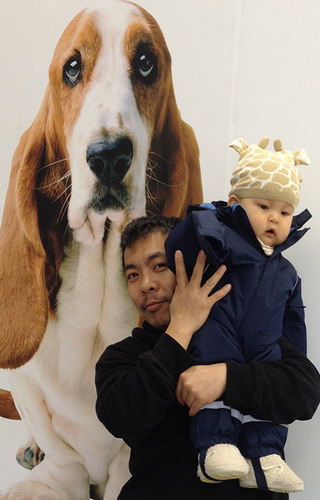 Sun Yuqing and his son. [Photo/Provided to chinadaily.com.cn]
I have never regretted my decision to become a stay-at-home dad. After taking care of my baby son for nearly 14 months, wow, I have every reason to believe this is one of the best decisions I have ever made.
To be a news editor and team manager at a major information portal is certainly a great job. But if I have to choose between Mr. News and Mr. Mom, the latter option is my easy choice.
Actually, for a man from East China's Shandong province, where the mindset of male superiority runs deep, I was faced with not only good-natured questions from others but also the expectations of cultural values defining me.

The interesting thing is that once I took on this new role, of course with the support of my wife who loves her work, I was just too busy, or too happy, to care about what people thought of me or what I think of myself.
Thanks to over 10 years of working experience, I can still be a freelancer working at home and able to partially cover living expenses.

When my son sleeps, I can focus on my personal interests, researching media topics or watching TV drama series.

When taking him outside in the stroller, I can listen to my favorite podcasts or introduce him to everything, from colorful flowers to twittering birds as if he understands it all.

Every minute I spend with my child can be a great chance to learn, to appreciate, to think differently and to feel inner peace despite numerous hardships.

So I never thought I was making a sacrifice for the best interests of my son. On the contrary, I consciously, clearly like the idea of being a full-time dad when it is still a rarity.
The China Daily online editor asked me to write this parenting essay and to limit it to around 300 words. Only 300 words? A stay-at-home dad will find that 30,000 words are insufficient to tell the whole story. But I will keep all those unsaid, wonderful parts to myself, and encourage all parents to explore the amazing world with your child in your own unique way.
The author is a former editor of China Daily online. His email is ukingsun@qq.com