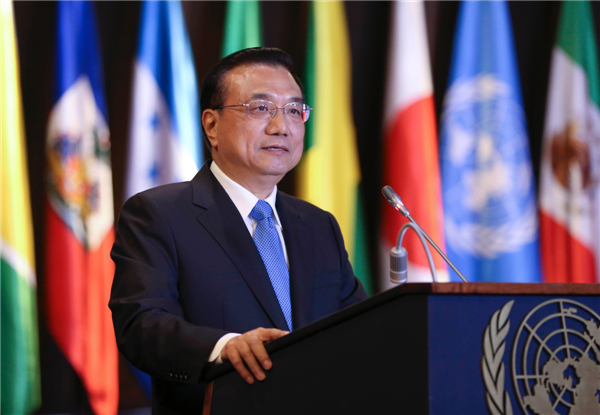 Chinese Premier Li Keqiang addresses the Santiago-based Economic Commission for Latin America and the Caribbean (ECLAC) in Santiago, Chile, May 25, 2015. [Photo provided to chinadaily.com.cn.]
International cooperation on production capacity has become a key part in China's economic cooperation with many other countries; and this cooperation is gaining momentum recently.
During Premier Li Keqiang's visit to Latin America, China signed framework agreements on industrial investment and cooperation with Brazil, Colombia, Peru and Chile, identifying areas for cooperation and key projects in building infrastructure and connecting manufacturing chains. In Kazakhstan, China is carrying out a package of industrial cooperation projects amounting to over $20 billion, covering a dozen of priority sectors in Kazakhstan like iron and steel, cement, and plate glass. In countries like Indonesia, Ethiopia and Egypt, China's bilateral cooperation has shown promising prospects in areas of building materials, non-ferrous metals, ship-building and textile.
Why such a move?
To start with, China's economy has entered into a new stage where it is now in a position to tap into its emerging comparative advantages. After decades of development, China has now grown into one of the world's major industrial powers and lies in the middle of the global manufacturing chain. A large number of industries in China are advanced in technologies and operate at modest cost, thus enjoying the dual advantages of high quality and moderate cost. These industries are, therefore, more fitting to the needs and absorption capacities of developing countries. For instance, high-speed rail and nuclear power projects of China have been well received around the globe for their distinct Chinese features as well as world-level competitive edge.
In addition, promoting international cooperation on production capacity helps to harness global economic growth potentials. It can be an effective response to the downward pressure on the world economy, which is still in the post-crisis deep adjustment period.
Developing large-scale and high-efficient industrial projects helps attract foreign investment, boost demand and create jobs. Building infrastructure helps improve connectivity and solve bottleneck problems in areas of transportation, energy and communications.
Furthermore, it meets the needs of the recipient countries that are advancing neo-industrialization. Developing real economy has become the focus of attention for policy makers and a series of plans and strategies have been formulated. For developing countries in the process of industrialization, international cooperation on production capacity can serve several purposes. It can support industries of both recipient and exporting countries by setting up the much-needed manufacturing assembly lines; building industrial parks to further process resources; extending the manufacturing and value chains; and promoting the development of SMEs.
The voices from the recipient countries are relevant because there is no shortage of allegations like "China exporting deflation" and "China transferring excess manufacturing capacity". One may not be surprised, as these days whatever China does, it will be scrutinized by critical eyes with colored lenses.
But the afore-mentioned views are nowhere near truth as it is known to all that the deflation risks faced by some countries and regions stem from the financial crisis that broke out in developed countries. And the risks have been exacerbated by post-crisis unconventional monetary policies and lack of action over structural reform to address the real cause of the crisis. Some countries, out of their own selfish interest, resort to trade and investment protectionist measures that risk shutting down the world economy. This will end up in lose-lose situation.
China's effort to promote international cooperation on production capacity is a demonstration of the defining features of today's global economic cooperation.
First, China aims at win-win cooperation, aligning the development strategies and industrial cooperation of both countries on the basis of voluntarism, equality and mutual benefit.
Second, China is for openness and inclusiveness. It follows international rules and bases the cooperation on comparative advantages of each country. China is also ready to exploit tripartite cooperation with a view to combining the manufacturing advantages of China, the advanced technologies of developed countries and the needs of developing countries.
Third, China attaches importance to environmental protection and green growth. What China offers is not the outdated or obsolete industries, rather its superior, advanced and green production capacities like clean and neat factories, advanced and user-friendly equipments, fast and safe trains, wide and flat roads. This is what many developing countries would like to have in their pursuit of industrialization and development.
The author is the director-general of the International Economic Affairs Department of the Foreign Affairs Ministry of China.