Editor's note: Unlike in many Western countries, where dogs are treated like family members, dog meat is consumed in some parts of China. With an increasing number of animal welfare activists campaigning against eating dog meat, is it for China to ban using the animal as food? Forum readers share their opinions. You're welcome to leave your comments.
Aloisa (Mexico)
For millions of people who grew up with dogs and live with them as part of a family, this is a very sensitive topic that creates personal suffering. You don't have any idea how I feel after seeing several pictures of stolen dogs being killed with extreme cruelty just for a dish; even farm animals have more dignity when they are slaughtered.
I live in Mexico, it is said the Aztecs had the habit of eating dogs. Now that's part of the past; we walk our dogs, play with them and take them to the veterinarian. Yes, there are animal welfare issues that are in discussion but at least we are relieved that dogs are in our houses, not on the menu. This is proof that traditions can change for the good.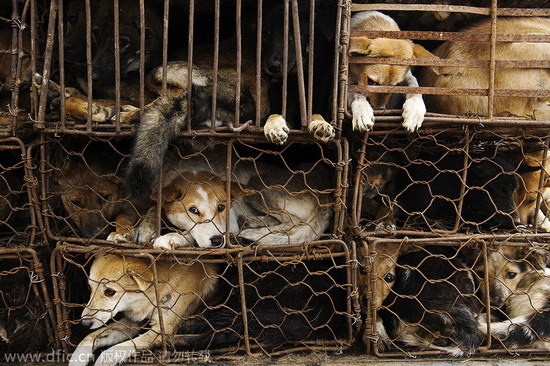 Caged dogs are being transferred from a zoo to dog meat restaurants, in Changsha, capital of Central China's Hunan province.[Photo/IC]