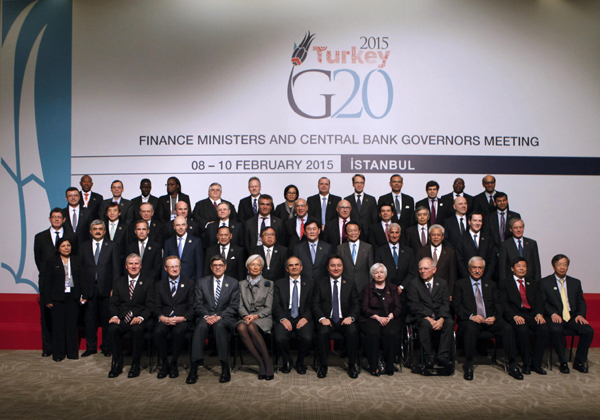 G20 finance ministers and central bank governors pose for the media during family photo in Istanbul, Feb 10, 2015. [Photo/Agencies]
The slowed global economic recovery has highlighted numerous problems in the existing international system, prompting growing calls for better global governance.
The current global governance mechanisms, which have brought emerging and developed countries together to discuss ways to address global issues, have offered opportunities for developing countries, including China, to actively participate in this process. Given the degree of China's participation in international affairs and the international society's increasing connection with the country, China's participation in global governance and a bigger role remain the general trend.
As a key member of the G20 and other multilateral platforms, China has initiated proposals on global governance that have had far-reaching influences.
With the continuous rise of the overall power of emerging and developing countries, in particular, China's growing strength, the model of global public products supply is undergoing changes, and there are growing expectations for a supply of public products from China. From the efforts to set up Asian Infrastructure Investment Bank and the BRICS development bank to the efforts to create an emergency reserve arrangement among BRICS countries and push for the establishment of the full regional economic partnership and a free trade area in Asia-Pacific, China has proved its devotion to enriching and supplementing the extant international order and easing the deficit in the global supply of public products.
The international situation now faces an increasing number of unstable and uncertain factors from both traditional and non-traditional security threats. This has made it an important issue whether China, with its increasing influence, will actively participate in the making and innovation of international rules and push for reforms of the international system to make it more equitable.
The above is an abridgement of a People's Daily article published on Tuesday.