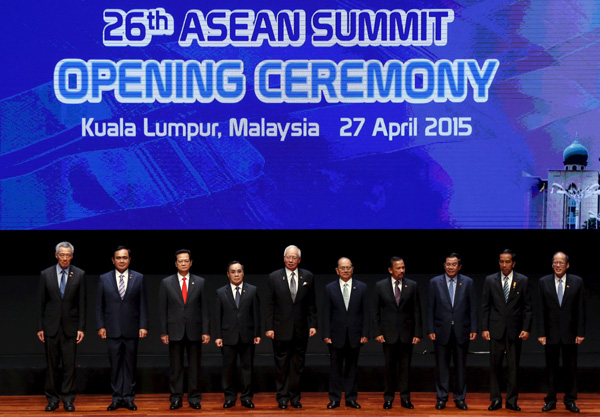 (L-R) Singapore's Prime Minister Lee Hsien Loong, Thailand's Prime Minister Prayut Chan-o-cha, Vietnam's Prime Minister Nguyen Tan Dung, Laos' Prime Minister Thongsing Thammavong, Malaysia's Prime Minister Najib Razak, Myanmar's President Thein Sein, Sultan of Brunei Hassanal Bolkiah, Cambodia's Prime Minister Hun Sen, Indonesia's President Joko Widodo and Philippines' President Benigno Aquino III, pose for a photo during the opening ceremony of the 26th ASEAN Summit in Kuala Lumpur, Malaysia, April 27, 2015. [Photo/Agencies]
The Chairman's Statement of the 26th ASEAN Summit issued on Tuesday, which resorted to insinuations at China's construction activities on its stationed islands and reefs of the Nansha Islands, is totally unreasonable and unacceptable.
The Nansha Islands are part of China's inherent territory and China has indisputable sovereignty over them. Given that Chinese personnel stationed there often have to face very adverse conditions, China's construction activities are aimed at improving their working and living conditions, to help them better fulfill China's international duties and obligations in such areas as maritime rescues, disaster prevention and mitigation, maritime research, meteorological observation, ecological protection, navigation safety, as well as fishery services and counter-piracy.
The ongoing activities will make it easier to offer necessary services for navigating vessels of China and other countries through the South China Sea. The activities, which are completely within China's sovereignty and not targeted at any other country, are beyond reproach.
In fact, for a long time, three ASEAN countries have illegally occupied some of China's islands and reefs of the Nansha Islands and built various facilities there, including airports. They have also deployed weapons and other kinds of equipment there.
The Philippines, in particular, has illegally occupied China's Zhongye Island and has continuously reinforced the airport and barracks it has constructed, along with its facilities for maintenance, and it continues to expand the construction of a new wharf.
Another ASEAN country has also illegally stationed nearly 3,000 military personnel on some of China's islands and reefs, and equipped them with anti-aircraft cannons, land and amphibious tanks, anti-tank missiles and armed helicopters. Such activities, which constitute a serious infringement of China's sovereignty, are completely illegal and invalid, and they have only complicated the situation in the South China Sea.
It is bewildering that no country but China has expressed concerns and opposition to such illegal acts in the South China Sea over the past years. And even more bewildering that certain countries have made every attempt to make an uproar in an attempt to demonize China's construction activities on its own islands and reefs. This is nothing but a reflection of their "double standards".
China will resolutely continue its construction activities, which are absolutely legal, justified and reasonable. Meanwhile, China is devoted to resolving the disputes in the South China Sea through negotiations and consultations with countries directly concerned.
Such an approach is not only a requirement of the Declaration on the Conduct of Parties in the South China Sea (DOC) signed by China and ASEAN countries in 2002, but also the most effective way to resolve the disputes and maintain lasting peace and stability in these waters. At the same time, China has also been actively pushing for cooperation in the South China Sea.
It has established a 3-billion-yuan ($483 million) fund for China-ASEAN maritime cooperation, and is actively pushing forward such cooperation programs as maritime connectivity, navigation safety and environmental protection.
China and ASEAN are close partners with vast shared interests. China always supports the integration process of ASEAN and ASEAN's central role in regional cooperation. The China-initiated 21st Century Maritime Silk Road and the Asia Infrastructure Investment Bank offer historic opportunities for China and ASEAN to enhance their maritime cooperation.
Despite being complex issues that can't be resolved in a short time, the disputes in the South China Sea are and should remain as a problem between the parties, directly concerned rather than one between China and ASEAN.
It is the Philippines and a few ASEAN members that have hijacked the whole ASEAN and China-ASEAN relations, jeopardizing the mutual trust between China and ASEAN. Most of the ASEAN members need to be alert to their attempts to use ASEAN for their selfish interests, and safeguard the trust and good partnership that has been developed between China and ASEAN.
The author is a Beijing-based scholar on international studies.