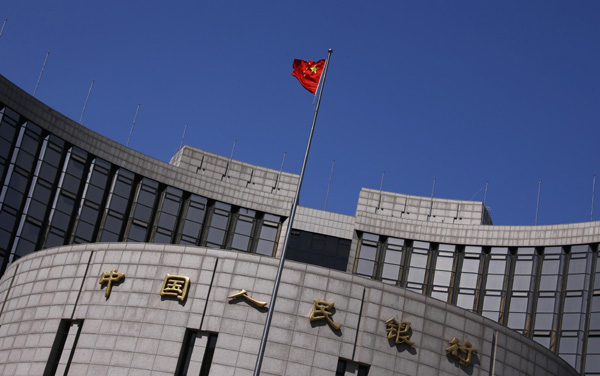 A Chinese national flag flutters outside the headquarters of the People's Bank of China, the Chinese central bank, in Beijing, April 3, 2014. [Photo/Agencies]
China's Central Bank announced on Sunday it would lower the required reserve ratio (RRR) for financial institutions by 1 percent as of Monday, with an additional 1 percent cut for rural credit unions and village banks that mainly serve rural residents and rural development. Comments:
The People's Bank of China has lowered interest rates twice and the RRR once, but they hardly make it easier for enterprises to raise funds, because the RRR remains too high; some analysts have found that the high RRR means the cost of credit was as high as 6 percent for industrial enterprises, higher than their average profit rate. It is urgent that some effective measures are taken to lower the cost of credit for enterprises and lowering the RRR is the best one.
Southern Metropolis Daily, April 20
After the GDP growth rate fell in March there has been no indication it will rise again in April. Decelerating growth is not a problem, but a fast fall in the growth rate carries the risk of a hard landing for the economy, which might in turn lead to massive debt defaults. The central leadership has tried to prevent a hard landing through a series of loose monetary policies in January and February, but the growth rate in March shows they have not been loose enough. That's why they are now lowering the RRR by 1 percent.
Liu Dongliang, a senior analyst at China Merchants Bank, April 20
More measures are needed to guide the additional funds to the real economy instead of the stock and realty markets, which would only create more asset bubbles. That requires the authorities to accelerate the ongoing reform in governance, financial policies and residence registration, and further adjust the economic structure.
Beijing News, April 20
A lower RRR will help the adjustment of the economic structure, because in the process enterprises might need huge quantities of funds for mergers and reconstructions. The monetary authorities should keep a certain amount of liquidity in the market and make sure enterprises get funds at low cost to prevent possible risks. The additional 1 percent drop in RRR for rural financial institutions is especially worth our attention, because that will boost development of small and medium-sized enterprises, mostly in rural regions, and provide more support to major infrastructure construction to benefit rural residents.
xinhuanet.com, April 20