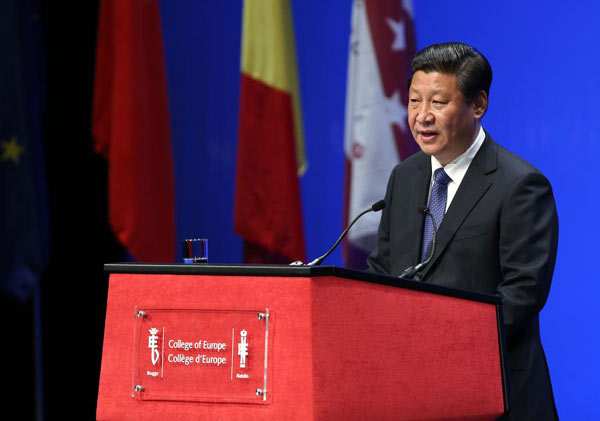 President Xi Jinping delivers a speech at the College of Europe in the Belgian city of Bruges. [Photo/Xinhua]
On May 6, 1975, China and the European Economic Community, which comprised Western European countries at the time, established diplomatic relations, and in a few days they will observe the 40th anniversary of that historic occasion.
China and the European Union (formed out of the EEC in 1993) have more than enough reason to celebrate the success of their 40-year relationship. Just take their trade volume as an example. It has soared from $2.4 billion in 1975 to $615 billion in 2014, and both sides have plans to increase it to $1 trillion by 2020.
Going by their interdependence, China and the EU have greatly contributed to each other's economic success. In fact, this is exactly what President Xi Jinping emphasized last year. And it's because of this interdependence that the majority of the EU's 28 member states have applied to become or have already joined the China-proposed Asian Infrastructure Investment Bank as founding members.
Besides, Brussels is likely to invite Beijing to participate in its three-year program to channel 315 billion in investments to Europe to invigorate its sluggish economy, and Beijing is seeking European countries' participation in the Silk Road Economic Belt.
From a strategic point of view, the EU and China have wanted each other to take part in their mega projects. And some businesses have even responded to the call. But China and the EU still have to work out a road map for the "integration" of trade, investment and infrastructure cooperation in the coming years to meet their ambitious goals.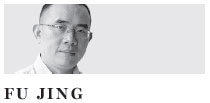 At present, both sides are negotiating and trying to remove barriers in their partnerships. But to make the 50th anniversary of the establishment of their diplomatic ties brighter, they have to focus on specific mega projects and their cooperation mechanism. For instance, China and the EU should consider establishing or consolidating economic partnerships between the EU's 28 members and China's provinces, municipalities and autonomous regions to fully realize each other's potential.
Recently, Gan Lin, vice-governor of Sichuan province, paid a three-day visit to Belgium. Seeking cooperation to make his province's Silk Road plans a success, Gan said Belgium, which has a population of 10 million, can help the plans by tapping the cooperation potential of Sichuan.
For example, Sichuan is a big producer and consumer of alcohol, and Belgium is famous for its beer, so they can enter into a profitable partnership. Also, Sichuan, with a large population of farmers, could be a big market for Belgium's agricultural technologies.
To fully realize their potentials, China's provinces and regions and the EU member states have to be well paired after carefully examining their strengths and weaknesses. Take the example of Athens. Greece, trapped in economic and fiscal difficulties for years, has longed to turn its capital into a global financial and logistics hub like Hong Kong. In fact, Athens has all the geopolitical advantages that Hong Kong has. So why not pair Hong Kong with Athens?
Switzerland is not an EU member. But as an economic and tourism powerhouse it is an excellent example for Guizhou province, a landlocked but stunningly beautiful place, to emulate. Actually, Guizhou has plans of following in the footsteps of Switzerland. And in terms of tourism, environmental protection and agriculture, Guizhou has the potential to be paired with Switzerland.
Many Chinese and European cities have become sister cities. But that is more of a symbolic relationship. Perhaps the pairing of Chinese provinces and regions and EU member states will make the Beijing-Brussels partnership more fruitful when the two sides celebrate the 50th anniversary of the establishment of their diplomatic relations.
The author is China Daily chief correspondent in Brussels. fujing@chinadaily.com.cn