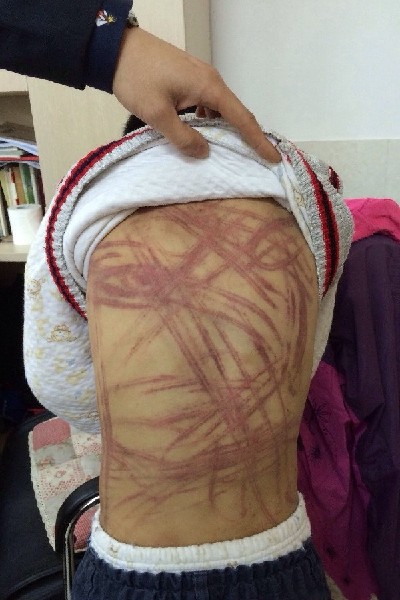 The young boy shows off the scars on his back from alleged abuse by his adoptive parents. [Photo/IC]
Photos of a 9-year-old boy in Nanjing, East China's Jiangsu province, with his back full of scars after being tortured by his adoptive mother, spread widely online recently, arousing nationwide concern about violence against children. However, after an expert hearing, the local prosecutors' office decided not to approve an application from the local police to arrest her. Comments:
Arrest limits a suspect's rights and consumes the State's resources; hence most countries with rule of law have a common principle of arresting only those who try to flee and those who might continue to harm society. In this case, the prosecutors made the right decision because the child was only lightly wounded while the suspect apologized and shows no hint of fleeing. However, that does not mean she remains free - the procuratorate might still send her to court if they think it necessary. Not arresting a suspect does not mean not prosecuting him or her.
Beijing Times, April 20
There used to be a time when police, procuratorates and courts tried to shrug off their responsibility in cases of domestic violence, claiming they were "internal affairs of the family". This is gradually being corrected as the whole society realizes the need to curb domestic violence. However, they should beware going to the other extreme by forgetting the principle of presumption of innocence and putting every suspect into jail. Legal justice should be the sole principle governing the case in Nanjing.
Beijing News, April 18
According to the local procuratorate, they decided not to arrest the adoptive mother partly because her attorney read a letter of apology written by her, and the victim said he wanted his "mom". However, the fact that the 9-year-old boy might rely on her is no excuse for bending the law. Justice should be done, and if the boy is confirmed to have been beaten up by his adoptive mother, she should be held responsible.
Zhang Chun, director of Nanjing Psychological Crisis Intervention Center, April 20