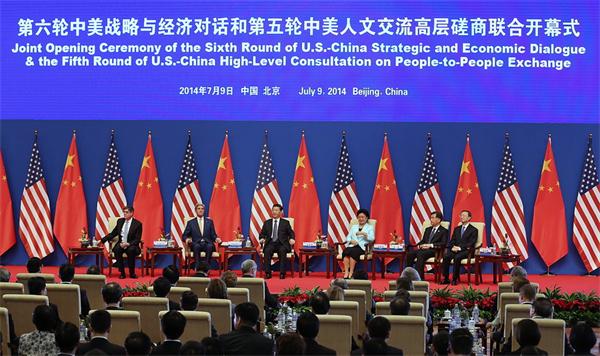 Chinese President Xi Jinping (L3) attends the joint opening ceremony of the Sixth Round of China-US Strategic and Economic Dialogue and the Fifth Round of China-US High-Level Consultation on People-to-People Exchange in Beijing, capital of China, July 9, 2014. [Photo by Xu Jingxing/chinadaily.com.cn]
There is no doubt US politicians have not talked enough with their people about the positive aspects of US-China ties, which accounts for a large part of the full picture of bilateral relations. On the contrary, they have made increasing use of China as a bogeyman.
We saw that when incumbent US president Barack Obama battled Republican candidate Mitt Romney in the 2012 presidential campaign on who was and could be tougher on China, making it seem the US could solve its problems by just blaming China. We saw it again last week when Obama gave his State of the Union address.
While several experts on US-China relations I talked with earlier did not even expect China to come up in the address this year, because they believed it would focus on domestic issues, Obama sprang a big surprise. The Republicans surely didn't expect to see a cockier-than-ever Obama speaking for the first time before a Congress with both chambers controlled by the Republicans. He touched on bipartisan cooperation, but the words and tone he used were absolutely confrontational.
Obama knew that using China as a bogeyman was his best shot to convince Republicans who don't see eye to eye with him. So he sensationally alleged: "China wants to write the rules for the world's fastest-growing region. That would put our workers and businesses at a disadvantage." And followed it up with his solution: "Why would we let that happen? We should write those rules."
The fact of the matter is that China has not been part of the US-dominated rule making in the past. And now Obama wants to exclude it from future rule making as well. If the US-led Trans-Pacific Partnership is not a scheme to contain China's rise, Obama's way of arguing for Trade Promotion Authority from US Congress indeed suggests it is.