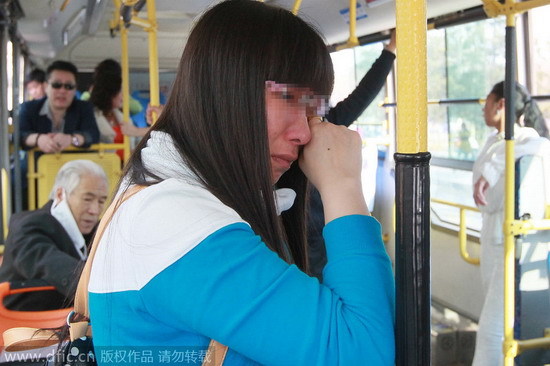 The young woman weeps after getting hurt for unwillingness to give up her seat to the elderly man in a dispute with his son and son-in-law on Bus 215 in Shenyang, on March 30, 2014.
The Chinese translation of The Good Citizen by Michael Schudson hit bookstores recently, providing Chinese readers a chance to gain an insight into the history of American public politics.
While that is welcome, I find it more interesting to look into the lack of awareness about citizenship in many individuals in China. In fact, many would frown upon at the very mention of how some people behave in public.
A tale goes like this: An old man lies on his back at a crossroads, waiting for someone whom he can blackmail. A young man walks up to him and says he is too poor for extortion. The old chap waves his hand, telling the young guy to leave him alone. Another man approaches the old man and says he is even poorer than the first and doesn't have enough money to even support himself. The old man gets up immediately and lets the young guy lie down in his place, saying, "your need to blackmail an upstart driving by in a fancy limousine is even greater than mine".
Although a joke I read on WeChat (micro message), it illustrates how strong a resentment some people harbor against the rich - they even justify the evil act of blackmailing by categorizing it among the favors people have done to alleviate their anger at social and economic inequality.
Similar to this joke is a comparison between the misdeeds of ordinary people and the abuse of power by corrupt officials. When a person is reprimanded for failing to properly perform his duties, he shoots back saying the losses he has caused by doing a bad job is nothing compared to the huge sums of money corrupt officials have embezzled or taken as bribes.
It seems the rationale is to use rampant abuse of power by officials to justify the misdeeds of ordinary people. In other words, people have no need to perform their duties as good citizens unless they have a government that is run by clean and honest officials.
The big question is: Do people with such a mentality have any intention of becoming good citizens? And the corollary: Will such people make good citizens?