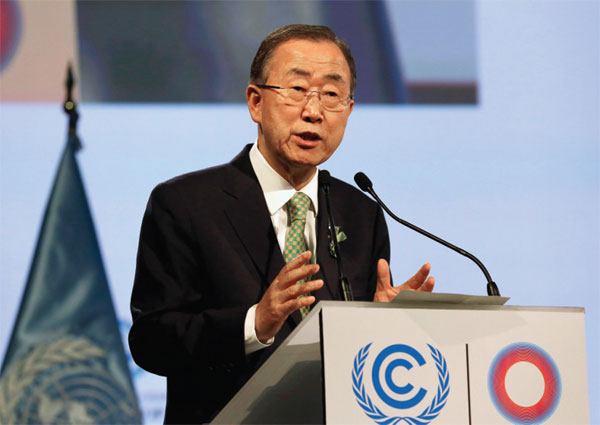 United Nations Secretary-General Ban Ki-moon gives a speech during the opening of the High Level Segment of the UN Climate Change Conference COP 20 in Lima on Tuesday. Mariana Bazo / Reuters
As if the murderous rise of Islamic State, the continued mayhem in the Middle East, the bloody violence unleashed by Boko Haram in Nigeria, the rise of right-wing nationalists from the United States to Ukraine, the increasing terrorist attacks across the globe, the standoff between the Washington and Moscow that threatens to lead toward global economic and military emergencies were not enough of an indication that the world was heading toward a real crisis, comes something even more devastating from researchers at an American university.
Human civilization has exceeded four of the nine planetary boundaries critical for maintaining a "safe operating space", says a study conducted by an 18-member research team, led by Steve Carpenter, director of the Madison Center for Limnology at the University of Wisconsin. The four planetary boundaries humans have crossed are climate change, loss of biosphere integrity, change in land system and altered biogeochemical cycles like the surplus of phosphorus and nitrogen, says the study published in the journal Science on Jan 15. That four of the nine metrics are already beyond the point of no return means human civilization is already 44 percent doomed.
Carpenter, in a statement, said this should be a warning to policymakers that "we're running up to and beyond the biophysical boundaries that enable human civilization as we know it to exist".
The two key elements of nitrogen and phosphorus, which have entered the ecosystem in massive quantities because of their use as fertilizers, were part of the focus of the study. Their cycles have changed much more than any other element - 200-300 percent compared with only 10-20 percent for carbon, Carpenter said. This is a dangerous development because phosphorus and nitrogen runoff can cause serious damage to water quality - increased phosphorus runoff is to blame for the oxygen-starved "dead zone" in Lake Erie in North America, and nitrogen flowing down the Mississippi River has caused the "dead zones" in the Gulf of Mexico.
Less than a week after the study was published in Science came Russia's warning that water levels in Lake Baikal have dropped to record lows, lowest in 60 years. Did someone say 2014 was the hottest year on record?