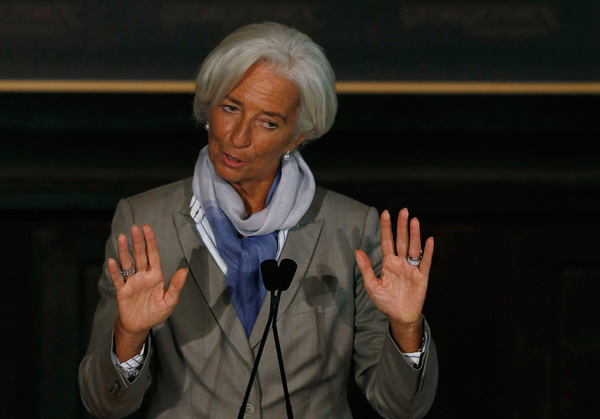 International Monetary Fund (IMF) Director Christine Lagarde delivers her speech on the global economy ahead of the fall meetings of the IMF and World Bank at Georgetown University in Washington on Thursday. REUTERS/Gary Cameron
As the US Congress failed to incorporate the International Monetary Fund reform package of November 2010 into its budget legislation, the IMF quota and governance reforms are once again stalled. Christine Lagarde, managing director of the IMF, indicated in a statement in December that the board is due to meet this month to weigh "alternative options" to the four-year-old reform plan and ensure that the IMF has adequate resources.
The IMF reforms are designed to reflect the increasing importance of emerging economies and retain the influence of smaller developing countries in the IMF. According to the reform plan, 6 percent of the quota shares of developed countries will shift to emerging economies. China's quota share will rise from the current 3.99 percent to 6.39 percent. As a result, China will become the third-largest shareholder after the United States and Japan. China's voting share will also increase from 3.65 percent to 6.07 percent and the other BRICS countries such as Russia, India and Brazil will all be in the top 10. The reforms are hailed as the "most fundamental reforms of governance" in the history of the IMF.
In spite of the fact that the United States will not lose its unique veto power in the institution, it still feels that its dominance in the IMF is at risk and therefore has adopted procrastination tactics in an attempt to drag the reform into limbo.
In essence, the reforms have been crafted to democratize the IMF governance. Now, those sitting at the head of the IMF's table are either US allies, or its Western partners, whereas the developing countries are underrepresented as a whole. They do not have a say in the IMF decision-making process, or in protection of their fundamental interests. Should the reforms be put into effect, emerging economies will gain a significant increase in "weight", and some will sit at the "head table".
According to the reform plan, the US needs to transfer $63 billion from its $70 billion contribution to the IMF's emergency funds. Some US congressmen opposed to the reforms claim that, as the US currently suffers from high fiscal deficits and budget cuts, it would be too costly for the US to approve its quota increase. This will only involve transferring the money from the US' IMF account to another, not to increase the US' burden at all. Still they seek to maintain the US position as IMF's largest shareholder.