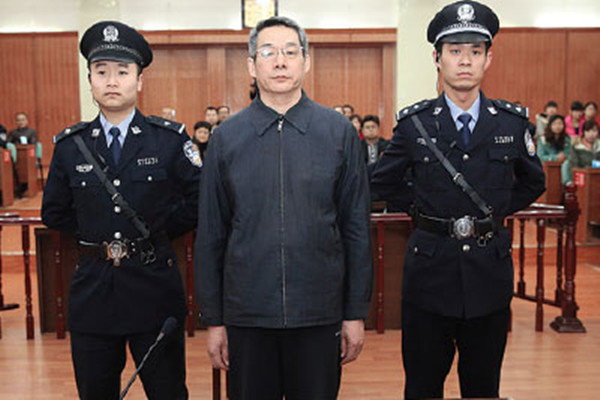 Liu Tienan (center), former vice-minister of the National Development and Reform Commission and former chief of the National Energy Administration, receives life imprisonment on Wednesday, Langfang Intermediate People's Court. [Photo/Xinhua]
The fight against corruption in China is not a blitzkrieg, but a protracted war that entails special and powerful anti-graft agencies armed with laws, says an article in People's Daily.
The job-related crimes in government departments and the SOEs in the oil, transport, land and financial fields have become more concealed, because of the increasingly complicated networks of nepotism and favoritism, and the application of advanced technology.
It is necessary to make the procuratorate's anti-graft department more professional and efficient so that it can better respond to the changes in job-related crimes and have stronger capabilities to handle them.
The anti-corruption and bribery bureau affiliated to the supreme procuratorate is to be promoted from the bureau level to vice-ministry level, have more professional personnel and equipment, and cooperate with the Party and the government disciplinary authorities closely. The strengthening of the bureau, which was set up in 1995, will enable it to play a bigger role in investigations and improve its coordination with different departments in digging out big graft cases.
Compared with the Party and government disciplinary watchdogs, the supreme procuratorate's anti-corruption bureau's power directly comes from the law.
It is unrealistic and impossible to always rely on superior powers to counter the power abuses of subordinates. Constructing an effective law-based anti-corruption institutional mechanism is a crucial objective. Making the legal authorities stronger so they can play a bigger role in the endeavor is an important step forward in that direction.