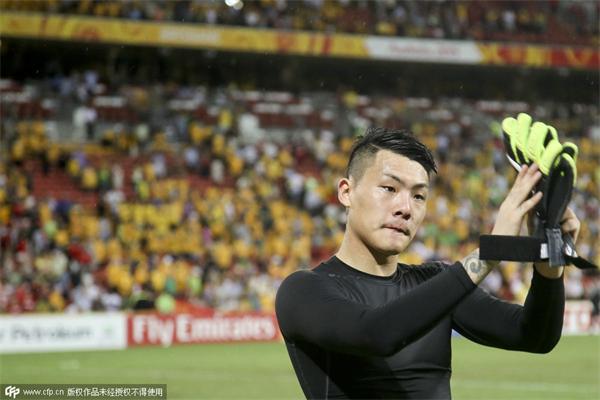 China's goalkeeper Wang Dalei reacts after his team's 2-0 loss to Australia in their AFC Asia Cup quarterfinal soccer match in Brisbane, Australia, Jan. 22, 2015. [Photo/CFP]
The Chinese men's soccer team, in one word, has been a shame for the past decade. The team's disgraceful performance and the scandal-ridden Chinese Football Association, the national governing body of the sport, have been a source of despair for the country's soccer fans.
The predicament of the Chinese men's soccer team over the past more than a decade prompted even the London-based Economist magazine to highlight in December the roller-coaster ride Chinese football has experienced as it has plummeted down its world rankings from 1993 to 2014.
But after the Chinese men's team emerged as the dark horse in the Asian Cup in Australia, many soccer fans have started seeing the proverbial ray of hope. The team, consisting entirely of homegrown players, swept into the quarterfinals after winning all its three qualifying games. On its way, it beat three-time champions Saudi Arabia and the highly rated Uzbekistan.
Even though they bowed out of the Asian Cup against its host Australia, the Chinese players, along with their French coach Alain Perrin, were given a heroes' welcome on their return home because of their admirable display.
One can understand Chinese soccer fans' newly found enthusiasm, especially because the country has played in only one World Cup - the one hosted by Japan and South Korea in 2002 - that, too, without creating any impact whatsoever.
Apart from Perrin's efforts to revive the team and the young players' high morale and fighting spirit, the anti-corruption campaign should also be credited for China's performance in the 2015 Asian Cup. The crackdown on match-fixing and gambling involving top sports officials played an important role in reviving the Chinese men's team.