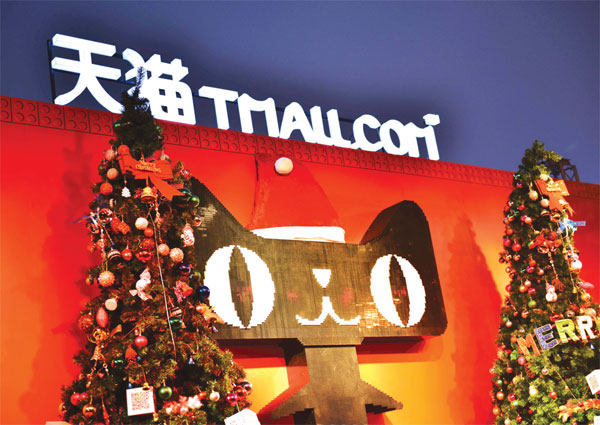 A Tmall logo made from Lego bricks is displayed in Hangzhou, the headquarters of Alibaba Group Holding Ltd. Long Wei / For China Daily
In a recent report about product quality in e-commerce for the latter half of 2014, the State Administration for Industry and Commerce said that only 58.7 percent of product samples sold online are certified. Taobao.com, China's equivalent of eBay, criticized the administration for breaking the rules in an open letter and is prepared for a legal complaint. The officials responded by saying they are strictly abiding by the law. Comments:
According to the country's Law on Product Quality, it is illegal to produce or sell fake, junk or misrepresented products. Some online shopping centers said they are only a platform, not sellers, but they are responsible for supervising the quality of products sold through their channel.
Zhao Ping, a researcher with the Chinese Academy of International Trade and Economic Cooperation, affiliated to the Ministry of Commerce, Jan 28
The argument is between China's largest online commercial platform and a powerful government agency, yet neither side has abused its power in hand to strike each other. The administration, especially, listed evidence and all the details that aroused doubts. Such reasonable interaction sets a good example for political and commercial powers to talk with each other and we expect that to be the "new normal".
Beijing News, Jan 28
It is convenience, low cost and transparency that granted online commerce its current credibility and helped it prosper all along. If those e-commerce platforms fail to curb the rampancy of fake goods, they might suffer from loss of public trust, which will be fatal not only to them but also to the honest businesspeople.
People's Daily, Jan 28