Editor's Note:
After living in the US for seven years, Sharon Shi chose to return to China and settled in Beijing with her American husband and cute daughter. In this blog, Sharon explains why she made such a decision.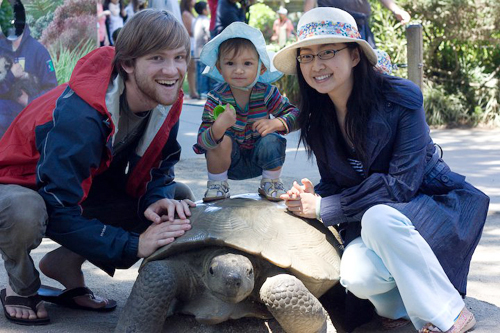 Sharon Shi and her husband and daughter pose with a fake tortoise. Shi used to live in the US but has recently moved back to China because she wanted to live in a country where she could feel that "life was still full of surprises". [Photo provided to chinadaily.com.cn]
It was a very hot summer day. My husband, my child Kay and I were visiting an old friend who had just moved from Michigan to Silicon Valley. At that time, this friend of mine had just finished her five-year-long PhD program in biology and had moved with her husband and one-year-old kid. She was excited about getting out of a desolate place like Michigan and starting new life in a seemingly perfect place like the Valley. Knowing that I had always wanted to go back to China, she asked me, "Do you still want to return to China?"
"Yes."
She looked very confused. "Hmm, what do you think is the most important reason for you to go back?"
Given that I had lived in California for five years up to that point, I pondered the question, but it did not take me long to reply: "I just can't stand the American suburban lifestyle. I can't imagine spending the rest of my life in a place where nothing ever changes. I want to feel that life is still full of surprises and I can feel that way in China. "
She went quiet for a moment, and then sighed: "But I feel we are already approaching 30. It's about time to settle down, isn't it?"
I took a look around. My two-year-old daughter was running around and my husband was chasing her. "I think we are all right," I said, although not in a convincing way.  We were about 26 or 27 at that time. I knew what she said was exactly what I kept hearing over and over again in those years. But I was actually screaming inside the whole time: Why? Why do we "need to" settle down? 
I lived in Silicon Valley for five years out of my seven years in California. The Valley is like a bubble in many ways. Every summer, tons of young people, including Indians and Chinese, pop up in the Valley. Most of them have just graduated from some schools on the East Coast or from the Midwest where the weather is challenging. They show up in California, feeling utterly amazed by the nice weather, huge number of their own races and great options of Asian restaurants and markets. They settle down in the Valley, get a car and start going to work. Year after year, they get used to the steep real estate price as their salary and options (i.e., stock shares) go up so they buy houses and cars and other stuff to fill their houses with. They get one vacation every year and they might go somewhere outside the States. Later, they start having kids and send their kids to all kinds of after-school activities and classes, hoping their kids would go to the Ivy League schools later and get a high-paying job after uneventful college years. The lifestyle in the Valley seems incredibly predicable and stable. Not many people living here even care about what happens outside this bubble. As the saying goes, "most Americans don't really care about what happens five miles away from their house". In fact, most news channels do not have any international news.