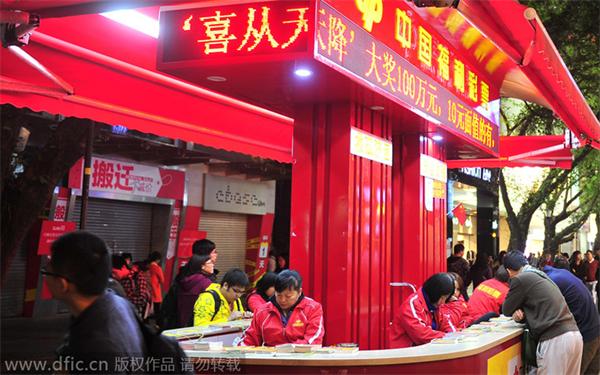 People buy lottery tickets in a ticket booth in Guangzhou, Guangdong province, on Nov 29, 2013.[Photo/IC]
A delayed lottery draw on Sunday has plunged the lottery industry into another credibility crisis. A man even notified the top anti-corruption body, the Central Commission for Discipline Inspection of the Communist Party of China, that he suspected an under-the-table deal behind the delay.
This is not the first time the lottery operators and relevant departments have been questioned about the lack of transparency in the entire process of operation and drawing of lotteries, and the use of the money collected.
This time the draw, which should have been broadcast live on TV at 9:30 pm on Sunday, was cancelled and the result was not announced until more than two hours later - 11:40 pm to be precise - with the winner walking away with more than 60 million yuan ($9.67 million).
Whatever explanation the lottery authorities gave, lottery ticket buyers are bound to doubt the authenticity of the draw. That the identity of almost every big winner has remained a mystery has made lottery ticket buyers increasingly suspicious that corruption is very likely involved in the lottery draws. And the fact that the fees for operating a lottery has been as high as 15 percent of the total sales for more than 20 years has also added to the suspicion of lottery buyers and the general public that the process cannot be free of corruption.
The total sales of lottery tickets add up to about 300 billion yuan a year, with those for sports lotteries alone being more than 100 billion yuan, which means the money deducted as operation fees can be as high as 45 billion yuan a year. But the public knows little about where such a huge amount goes.
The public does know a case in which the former deputy head of the national sports lottery center bought paper for lottery tickets at a much higher price than the market rate to raise the cost by an extra 23 million yuan. In another case, a leader of a local welfare lottery center spent money from the fees on a luxury yacht.
It is time the entire process of lottery operation was made transparent so that lottery buyers, nay the entire society, can know how the lottery industry operates and how the operation fees are spent. This is not only to protect lottery buyers, but also to ensure that the money so collected is spent on social welfare, as it should be.