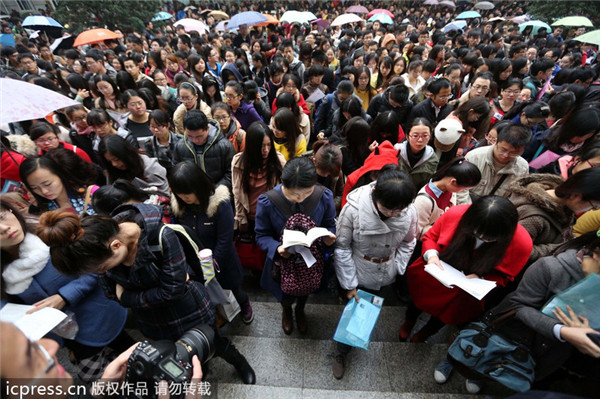 Applicants for the national-level civil servant exam wait outside the test site at Nanjing Forestry University in Jiangsu province in this Nov 24, 2013 file photo. [Photo/IC]
Civil servants' hard work in promoting good governance in China should be fairly rewarded according to rules and laws. But it is unacceptable for government officials to raise their own salaries under the pretense of helping them make ends meet without ending their corruption and power abuses. Their salaries should be the main source of income for civil servants, says an article in People's Daily.
People believe it is not government officials with their opaque ways of seeking illegal income from the power they have in their hands that should enjoy pay rises, but the middle class, who bear a heavy tax burden, and those people on low incomes, who are not yet covered by basic social welfare.
In fact, civil servants' salary rises this time come after reform of their pensions, which requires them to pay for their pension insurance. Previously they didn't need to pay the pension insurance, yet their pensions are two to three times higher than those of average wage earners. The rise of officials' salary will be mostly offset by their insurance payments, so actually the increases will not make a big difference to their take-home pay.
The annual central government enrollment exam remains one of the most competitive tests in the world. Not because the millions of exam takers have a strong will to serve the people, but because of the privilege, stability, social status and benefits government officials enjoy. Civil servants enjoy the best healthcare, housing and education, as well as bonuses. So although civil servants always complain of their low incomes, few of them quit their jobs.
The central authority should pay attention to the public's discontent about the salary increases for civil servants, and it should go one step further and make the salary system for officials more transparent and let people have a say in assessing the performance of civil servants.