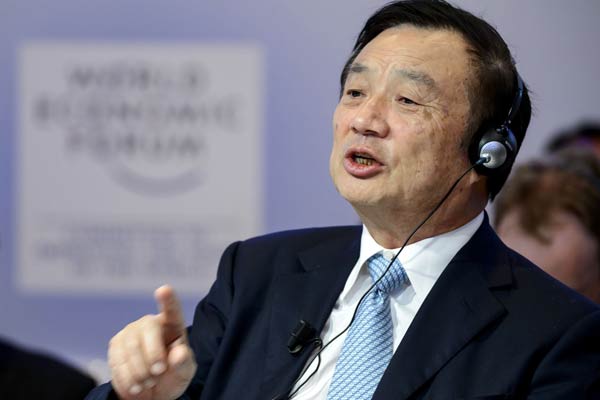 Huawei founder and president Ren Zhengfei speaks during a session of the World Economic Forum annual meeting on Thursday, in Davos. [Photo/Agencies]
Chinese participants at the World Economic Forum (this year's session ended in Davos, Switzerland, last week) and other international gatherings are becoming increasingly articulate, with Peking University's Justin Yifu Lin, Alibaba founder Jack Ma and Huawei president Ren Zhengfei being prominent among them.
Even among the articulate industry captains, 70-year-old Ren is different, for he seems to know better than others how to engage the audience even without answering the challenging questions.
A day after watching Ren's live interview on BBC on Jan 22, I met with him for afternoon tea at a hotel in Davos. Unlike American or European business tycoons, he doesn't say his mission is to serve the world; instead, he is clear that he wants to "get the money from the pocket of customers". Explaining how a company that started with less than $3,000 in 1988 earned sales revenue of $46 billion last year, Ren said the secret is that instead of relaxing Huawei employees want to work harder.
But when asked about his company's global ranking, Ren avoided naming its competitors, saying Huawei is always fighting against itself by offering internal incentives. Ren, nevertheless, did not chew words when it came to his views on the BBC interview, saying he didn't like the British news channel changing the promised "closed-door" meeting to a live broadcast. He was so annoyed with the change that he cancelled another interview that day. Although Ren appeared to know what he was talking about, it could not be confirmed whether BBC indeed changed the arrangement for the interview.
Ren instilled the same feeling at the beginning of this month when China Daily organized a closed-door seminar in Brussels on China's development outlook. Among the invited speakers were a small group of European and Chinese businesspeople, and as usual the latter were not keen on opening up. But Ren's case is different even if he is personally reluctant to talk, because Huawei cannot be silent. And with the 7,000 Europeans it employed, Huawei is, according to many accounts, the most active Chinese company in Europe in terms of publicity.