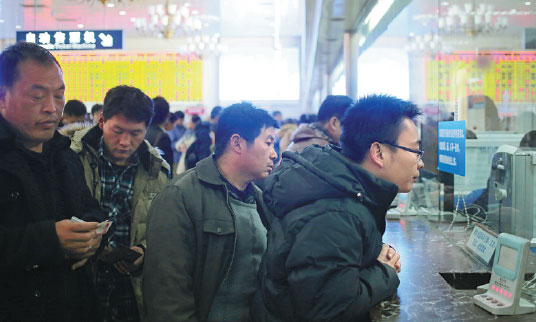 Passengers buy tickets at Beijing Railway Station on Sunday after rail authorities started selling tickets for next year's Spring Festival travel period, which runs from Feb 4 to March 16. Wang Jing / China Daily
According to a recent policy, passengers have been able to purchase tickets online 60 days in advance for travel during the Spring Festival rush, an annual phenomenon caused by people working faraway returning home for the Chinese New Year. However, a recent online survey of 1,141 people found more than 60 percent of them failed to purchase a ticket and had to resort to scalpers, whose businesses continue flourishing. Comments:
With the longer sales period, many passengers purchase the tickets in advance but change their minds later, which is a huge loophole for scalpers to exploit, as they purchase the returned tickets and then resell them at higher prices. A scalper told our reporter that they could harvest more than 1,000 yuan ($161) every day in this way.
Xinhua News Agency, Jan 20
Besides special software and faster bandwidths, professional scalpers also wait online the whole day, so that when some passengers return tickets they also get them from the system immediately. To solve the problem, the railway authorities should ban the software, and consider releasing returned tickets once a week instead of immediately after they are returned, which would make it possible for ordinary passengers to get them.
Huang Chengfeng, professor of economics at Chongqing Jiaotong University, Jan 20
When people fail to purchase the train tickets they want, sometimes they turn to scalpers in order to get home, which not only hurts their own interests, but also fuels the scalpers' business. Therefore we call for people never to buy any tickets from scalpers and call the police whenever they encounter a scalper. It needs our combined efforts to defend social justice.
cnr.cn, Jan 21