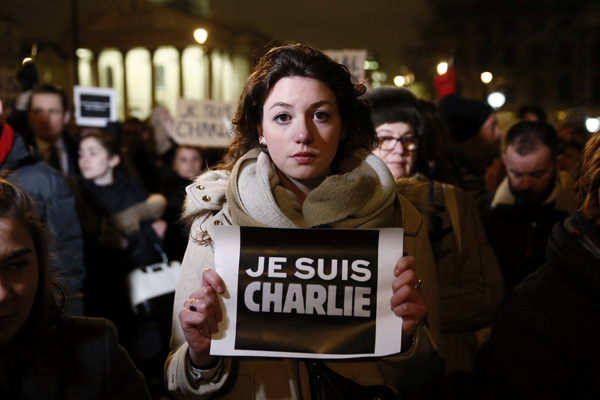 A woman holds a placard that reads, "I am Charlie", during a vigil to pay tribute to the victims of a shooting by gunmen at the offices of weekly satirical magazine Charlie Hebdo in Paris, at Trafalgar Square in London on January 7, 2015. [Photo/Agencies]
For all its barbaric nature and ruthless manner, the horrific massacre at the office of Charlie Hebdo in Paris was an act of cowardice that must be condemned by people of all cultures and beliefs.
The deadliest terrorist attack in France in decades, which left 12 dead and three others critically injured, is another reminder of the threat of religious extremism to world peace and human dignity.
Judging from their own claim, the perpetrators are Islamic extremists seeking revenge on disrespectful "infidels". As a satirical weekly, some of Charlie Hebdo's references to certain religions, including Islam and Prophet Mohammad, have been controversial. But that is a matter of appropriateness that could and should have been approached in a civilized manner.
It might be nearly impossible to deal, not to mention reason, with "lone-wolf" terrorists, who are responsible for the latest attacks in Sydney, and Ottawa. But recent attacks carried out by indigenous terrorists may be a dangerous sign that the threat of religious extremism has been seriously underestimated.
Be it in war-torn Iraq, Afghanistan, Libya or Syria, once a conflict acquires a religious tint, a door opens to religious extremism. Extremist forces are exploiting every opportunity available to expand globally. Paris is only its latest victim.
It is now obvious that no country can single-handedly uproot religious extremism. That is why countries have to join hands for effective defense.
That the US-led war on terror has hardly prevented terrorist elements from wreaking havoc in the name of religion, however, shows that a confrontational approach alone will not get the job done. Religions and civilizations must treat one another respectfully and learn to communicate. The call for dialogue of civilizations should no longer remain a hollow slogan.
The suspects' alleged association with extremist Islamic forces in the Middle East, as well as their claimed allegiance to al-Qaida in Yemen, are a reminder that al-Qaida, the Islamic State group and their likes have succeeded in sowing the seed of hatred on foreign soil.
The only way to cleanse the soil of such seeds of evil is to create an atmosphere of mutual respect that encourages cross-culture communication and rational discourse.
Intolerance of other ideas and beliefs is religious extremists' most favored weapon. It should not be the civilized world's choice in dealing with that evil. Or we will be lost in an endless vicious circle of vengeance.