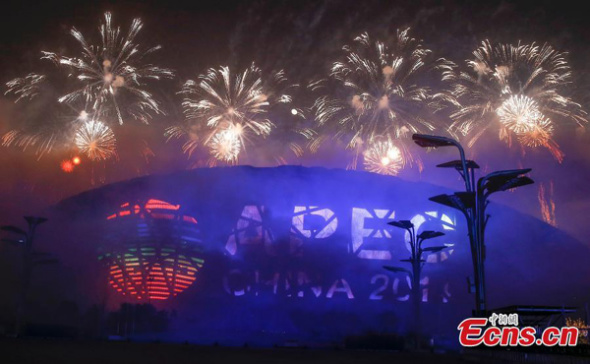 Splendid firework show is held for guests to attend the 22nd Asia-Pacific Economic Cooperation (APEC) Economic Leaders' Meeting in the square outside the National Stadium in Beijing, Nov 10, 2014. [Photo/China News Service]
The year 2014, which marked both the 100th anniversary of World War I and the 25th anniversary of the fall of the Berlin Wall, saw some notable changes in global affairs.
For one, war-related concerns have been spreading across the world, given the worsening situation in Ukraine and the rise of the Islamic State group in Syria and Iraq. While looking on the brighter side, China's diplomatic moves last year have been lauded by many as the most important since the country's reform and opening-up was initiated more than three decades ago.
Among all the global changes, three of them are particularly noteworthy.
For starters, there has been a noticeable dichotomy between peaceful development and latent military confrontations. Since the end of the Cold War in the early 1990s, win-win cooperation and permanent peace have become the shared pursuit of countries around the world.
But the crisis in Ukraine, which has resulted in the worst confrontation between Russia and the West in the post-Cold War era, poses a grave threat to the world's benign economic integration. The ongoing regional war in eastern Ukraine indicates that both the government troops and the militia in the region have failed to abide by the truce they agreed in September.
Following the increasingly harsh sanctions imposed on Russia by the United States and European Union, Moscow's countermeasures such as its "de-dollarization" are unlikely to ease the trilateral tension.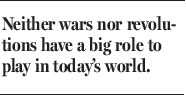 Second, one must be able to see the bigger picture when interpreting the current international situation.
To many, East Asia's stability, for example, is teetering on the brink of regional wars. At the end of 2013, an article in The Economist magazine likened the world in 2014 to that in 1914, which witnessed the outbreak of World War I. Such an analogy was magnified in January by Japanese Prime Minister Shinzo Abe, who compared Japan's current relations with China to the prewar ties between Great Britain and Germany.
Yet two things are worth noting in regard to such concerns. One, none of the US-led wars in Afghanistan, Iraq, and Libya in this century, have successfully ended the unrest in these countries; instead, they have even dragged Washington into a strategic dilemma.