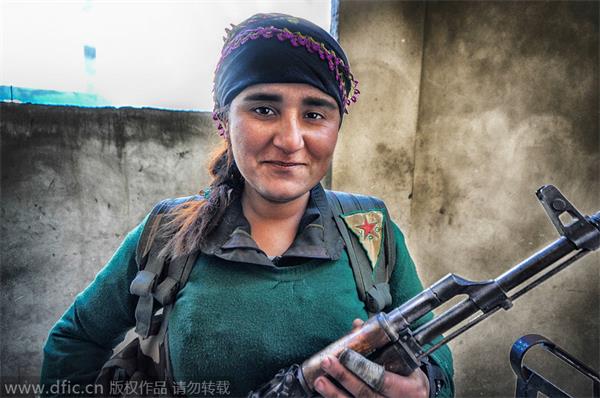 A woman fighter prepares to support the advancing ground troops in the battle for Kobane against the Islamic State in Kobane, Syria, Dec 30, 2014. The Kurdish Forces are fully gender integrated. The female fighters show great humility and effectiveness in the fight for the survival of their country. [Photo/IC]
Iraqi Prime Minister Haider al-Abadi thanked visiting Australian Prime Minister Tony Abbott on Sunday for Canberra's support in the fight against Islamic State militants. "For months, Australia has presented jet fighters and reconnaissance planes to detect the movements of terrorist gang Daesh (first Arabic letters of IS) and hit their locations, as well as to train our troops in military bases ...," Abadi was quoted as saying by Xinhua story datelined Baghdad.
In fact, Australia was among the first countries to join the US-led international coalition to fight the IS militants, who are wreaking havoc in Iraq and Syria. In September, a group of Australia's 200 special forces reached the Middle East to advise and assist Iraqi security forces, and since October Australian fighter jets, as part of the coalition, have been launching air strikes on IS targets in Iraq.
As a country still smarting under the tragic Sydney hostage drama on Dec 15, Australia knows well where it stands in the global fight against terrorism. The 16-hour ordeal in which a lone gunman took 17 hostages in a café in the heart of Australia's largest city ended with the deaths of two innocent people and the hostage-taker Man Haron Monis.
The incident, which for Abbott was a "brush with terrorism" as Monis sought to "cloak his actions" with symbolism of the IS, revealed an uneasy fact, that terrorists and extremists, even if operating alone, could strike anywhere, anytime and cause massive damage to society.
The hostage siege in Sydney set the alarm bells ringing in countries in the Asia-Pacific region, reminding them they were not immune from the the IS and its followers.
Australia has remained vigilant against terrorism since joining the US-led fight against the IS. In September, Australia raised its terror-warning level in response to the threat posed by the IS to the country. Also, it has taken seriously media reports warning that some 20 jihadists of Australian origin have returned home after fighting for the IS in the Middle East.