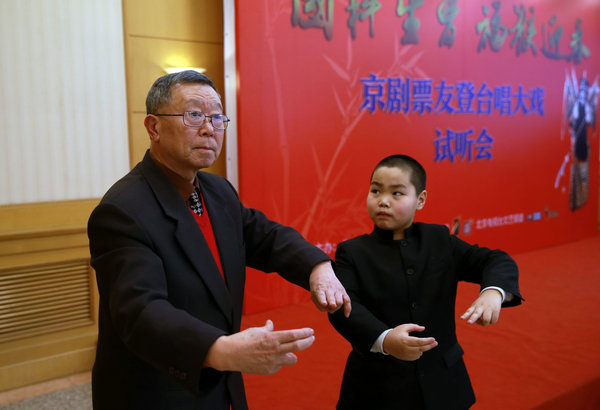 Peking Opera actor Kang Bingjun instructs Ding Hu, 10, at a rehearsal for the upcoming show in Beijing.[Photo by Zou Hong/ China Daily]
Young artists aim to boost appeal of Peking Opera with veterans showing the way, Chen Nan reports.
As the soaring sound of jinghu (Chinese two-stringed fiddle) and the beating of drums intensify, 10-year-old Ding Hu walks toward the center of the stage and poses like a warrior. In the next few minutes, he performs an act from Zuo Zhai Dao Ma, a Peking Opera classic, leaving the audience enthralled.
"You did a great job. What you need is to control your voice in high pitch," veteran Peking Opera actor Kang Bingjun tells the boy during rehearsals for a presentation of the traditional genre on Feb 9 at the Forbidden City Concert Hall in Beijing. "Don't forget to drink some water and relax before the show, and bear the character in mind."
The boy thanks Kang while scratching his clean-shaven head.
Ding is the youngest among 15 amateur Peking Opera actors, between ages 10 and 50, who will perform at a special show for Chinese Lunar New Year, popularly called the Spring Festival. Three professional Peking Opera actors - Kang, Li Yufu and Li Chonglin - are helping the team polish their performances.
"We picked 15 actors from among hundreds. Some of them perform very well and are even qualified to be professional actors," says Kang, who is in his 70s.
Kang learned Peking Opera as a child and has been teaching young Peking Opera performers since his retirement as a professional artist.
He says Peking Opera has a large and stable fan base in Beijing, and lots of amateur actors and actresses actively perform in their communities, which contributes to keeping the traditional art form alive.
"We've heard a lot about how Peking Opera is struggling to survive, but I don't think that's true - from the number of young fans I see. They are enthusiastic to learn and perform just like we did."
Ding learned Peking Opera at age 4, thanks to his grandfather. His grandfather, who is a big fan of the traditional genre, played songs from it on MP3s to entertain Ding on their one-hour commute to a kindergarten. Drawn to the rhythm and folk stories behind each piece, especially the war stories, Ding gradually became interested in the art form.
"One day, he suddenly hummed some Peking Opera tunes at home, and we were very surprised," Ding Ke says of his son, Ding Hu. "It's good for him to learn Peking Opera because it contains lots of Chinese virtues, such as being persistent and generous.
"He told us that he wants to become a Peking Opera actor when he grows up. My wife and I didn't force it on him. The most important thing is that he enjoys in it."