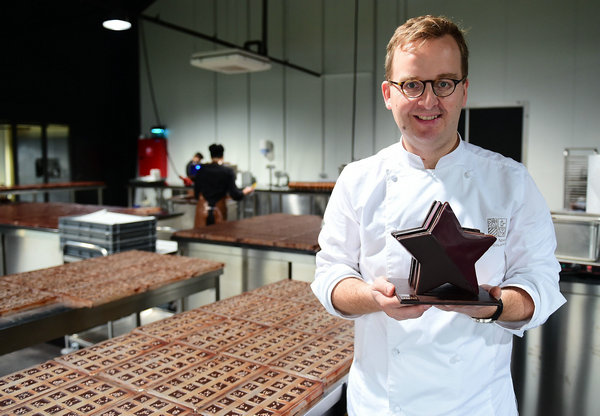 Belgium chocolatier Benoit Nihant with chocolate stars made with cocoa beans in Awans.[Photo/ Agencies]
Chuao, Baracoa, Hacienda Rio Peripa: When it comes to cocoa beans, it turns out there are vintages just like there are for fine wines, says Belgian chocolate maker Benoit Nihant.
Ina country where chocolate is a source of national pride, Nihant is one of around a dozen "bean-to-bar" makers who go direct to the source in Africa, the Americas and Asia to get the best possible taste.
And it is the Chuao plantation on Venezuela's Caribbean coast, where the beans dry beneath the sun in the village square before a blue and yellow church, that produces the finest chocolate in the world, experts say.
The select group including Nihant and his fellow Belgian Pierre Marcolini are now trying to transform the often traditional world of chocolate making by mastering the process from the bean harvest to the creation of elaborate confections. "It took us three or four years to really master, to understand the impact of the work on the plantations on the chocolate itself," says the 41-year-old Nihant at his shop in Awans, near Liege in southern Belgium.
After starting out as an iron and steel engineer in the Belgian rust-belt, Nihant says he had a revelation just before he turned 30.
"I suddenly realized that I hadn't chosen my career, my destiny," he says. "I really wanted to create something, and to live my passion on a daily basis."
That passion was chocolate, accounting for the attention to detail that now informs his work. "Good chocolate is made with love. Good chocolate is made with beans which come from a small plantation, which have been chosen and not mixed with the harvest from a neighboring plantation," he explains.
"It's chocolate where the grower is aware of what the chocolatier wants and respects all the steps of fermentation and drying without taking shortcuts."
Most of the world's major chocolate makers buy their chocolate ready-made from a small group of multinational firms which mix beans from different sources for a more consistent taste.
But for his chocolate, Nihant has hand-picked nine plantations after a series of journeys, in Venezuela, Ecuador, Cuba, Madagascar and Bali in Indonesia. Soon he hopes to source beans from Peru, where he recently bought land.
He imports 25 tons of beans a year in a country that produces a massive 650,000 tons of chocolate a year, mostly by big brands including Godiva, Leonidas and Neuhaus.
Going direct to the source does not come cheap, though. He buys his beans for between six and 12 euros ($6.50 to $13) per kilogram, whereas ready-made chocolate is sold to manufacturers for 3.50 euros per kilo.
Chocolate fans pay the price in the end for their pleasure: a 50-gram (nearly 2-ounce) Benoit Nihant bar costs between 4.20 euros and 7.20 euros.