Asian night markets offer tastes of the old and new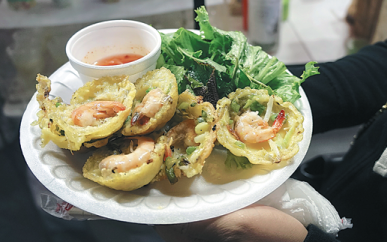 A plate of banh tom khot, a rice flour cake filled with shrimp at a night market in Los Angeles. Since about 2010, night markets have opened in New York City, San Francisco, Chicago, Los Angeles and other US cities.[Photo/ Agencies]
Beneath the giant red sign illuminating the Asian Garden Mall in Southern California, slabs of jumbo white squid are seared on a smoky grill. Nearby, children pluck fried potato slices off a stick and couples dance to Vietnamese ballads.
It reminds Audrey Dinh of the stories of night markets her Vietnamese grandmother used to tell, and of those the 28-year-old encounters on business trips throughout Asia. But this one is much closer to home, in the city of Westminster in Orange County, where vendors sell everything from giant prawns and coconut waffles to home curtains and flashing toy pinwheels.
"This is what I see in Asia, " Dinh says as she waited for an order of banh tom khot, a rice-flour cake filled with shrimp. "It's very close to Asia. "
During the past five years, similar night markets have popped up in major cities throughout the United States, a byproduct of both the nation's expanding Asian-American population - the country's fastest growing racial minority, numbering some 19.4 million - and a growing culinary curiosity for authentic East Asian flavors.
Not all of have remained exclusively Chinese or Vietnamese: Instead, many have evolved into a hodge-podge of cultures and foods reflecting their mixed communities.
Night markets date back to at least the Tang Dynasty (AD 618-907) in China. By the Song Dynasty in the 12th century, they had developed into sophisticated, well-organized centers selling grilled meats, stuffed buns and dried fruit.
"The Chinese had a flourishing commercial food scene long before Europe, " says Fuchsia Dunlop, an English writer and specialist in Chinese cuisine.
Night markets have continued to proliferate throughout Asia, with one study finding 95 operating on any given week in the city of Kuala Lumpur in Malaysia. In cities like Bangkok, street food remains the heart and soul of local cuisine, sold day and night from carts and makeshift stands. In the US, some night markets attract tens of thousands of people.
Jonny Hwang, 35, founder of the 626 Night Market in the San Gabriel Valley near Los Angeles, recalls how when he was a Chinese-American teenager growing up in suburban Los Angeles, his and other families strived to fit in.
"While we enjoyed our foods, we didn't really embrace them," says Hwang, whose market features classic Taiwan favorites and fusion dishes like pho tacos and ramen burgers. "I didn't force my friends to check out stinky tofu." These days, he says: "Asians are starting to embrace the fact that 'Hey, we have really delicious food. And other people are interested in that food.'"
Some US markets are a distant echo of the cheap, raucous places that inspired them. Celebrity chef and food adventurist Anthony Bourdain is creating a huge New York City market he has said will be open late and have the feel of an Asian night market, but also have prepared food stalls by celebrated chefs like April Bloomfield. Others tilt higher end, charging $50 or more to enter and sample food and drinks from top local chefs.
Creating US night markets has, in many cases, been an act of persistence.
Asian Garden Mall's management company says officials were skeptical about how many people the market would bring in, but it quickly attracted 3,000 people a night each weekend. Vendors Max Nguyen and his business partner began operating a stall at the market three years ago and now sell about 900 kg of grilled squid a night.
(China Daily 01/15/2016 page19)