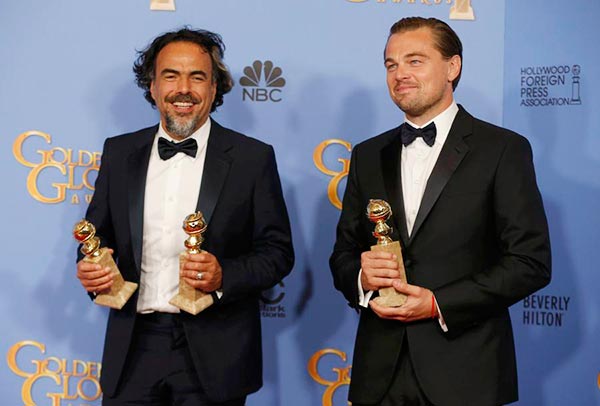 Director Alejandro Inarritu (left) poses with the award for Best Director and Best Picture-Drama alongside Leonardo DiCaprio, who poses with the award for Best Performance by an Actor in a Motion Picture - Drama for "The Revenant", backstage at the 73rd Golden Globe Awards in Beverly Hills, California January 10, 2016. [Photo/Agencies]
Revenge drama
The Revenant
and space adventure
The Martian
took the top
film
awards at Sunday's Golden Globes, setting them up as formidable
Oscar
contenders after a night of surprises and stinging barbs from return host Ricky Gervais.
Pioneer-era tale The Revenant won three awards including best drama film, beating out front-runners Carol, a lesbian romance, and investigative journalism drama Spotlight. Revenant star Leonardo DiCaprio won best drama actor and Alejandro Inarritu was named best director.
"This is the most difficult journey I've embarked on," said Inarritu, who last year won directing and best picture Oscars for Birdman.
"We struggled in low temperatures and difficult conditions to make this film happen, but we all know in this room that pain is temporary but a film is forever, so who cares?"
In a closely-contested men's field, DiCaprio prevailed over The Danish Girl star Eddie Redmayne and Concussion lead Will Smith, to win best actor for his role as a fur-trapper seeking retribution.
DiCaprio, 41, who has yet to win an Oscar, received a standing ovation and said he shared his award with indigenous people around the world.
"It is time that we heard your voice and protected this planet for future generations," the actor said.
The Golden Globes, handed out by the Hollywood Foreign Press Association, are the first major film honors of the Hollywood awards season that culminates with the Oscars on Feb 28. They can give much-needed momentum to films in a crowded field, and in recent years, top Globes have gone to movies that went on to win the Oscar for best picture.
But it is also a more raucous and risk-filled affair than the Academy Awards, starting with the humor of the host.