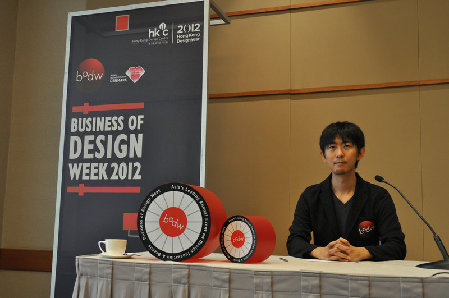 He is known by many roles - designer, creative director, film director and art director, but he prefers the word whatever to describe what he does.
Masashi Kawamura, born in Tokyo and raised in San Francisco, started his career as a programmer, but soon ventured into the world of design. He established himself in the industry with inventive and exciting projects.
Hibi no Neiro, a music video for the Japanese band Sour, featured a global audience shot with webcams, constructing an elaborately coordinated moving mosaic. Rainbow in Your Hand, a fun and inventive flip book, is designed to display the image of a rainbow with the moving pages; and his "T" shirts are inspired by the silhouettes of five famous typefaces.
At 33, he founded Party with four other Japanese creative directors. The creative lab seeks to inject "new stories crafted by new technologies" into products, services, spaces, and various other entertainments.
He has worked for advertising agencies like Hakuhodo, 180 Amsterdam, BBH NY, and Wieden + Kennedy NY, and served as a creative director for global brands such as Nissan, PlayStation, Levi's, Nokia, and Google. Masashi Masashi also works on music videos, product design, and art installations.
The young designer has earned many international awards, including the Digital Gold of Spikes Asia, a YouTube Video Award in 2009 and the Prix Danube Award. In 2011, he was chosen by the magazine Creativity as one of the Top 50 Creative 2011 and in 2012, Fast Company gave him a spot in the top 100 Creative People in Business.
This year, as the speaker at the Business of Design Week (BoDW), a Hong Kong-based event on design, innovation and brands, Masashi Kawamura discussed how he experiments with the creative process to combine storytelling and technology.
Q1: What do you find rewarding about working as a designer?
The moment I come up with an idea that can make communication more efficient, fun, and thought provoking (and having it made).
Q2: Are you always attracted to the audience's participation in the creation of your design?
Not always, but it's an interesting new method to create things using the social media that is available today. An important aspect of communication design is in how to engage your audience. How you make them feel they are a part of it. So audience participation is a great way to achieve that, but you must carefully curate the process in order to achieve high quality work.
Q3: What do you hope society will say about your design?
They don't have to say anything. I just want them to smile, and share it with friends.
Q4: Biggest obstacle you faced in the process of designing?
Filming 80 people from around the world on a webcam in 2 weeks with 0 budget, spending 4 nights soldering cables onto 250 cameras to control its strobes, 6 days and nights in a studio to make a 30 sec stop motion film… it's hard to name one, because to me, each new project is a challenge, and I want to always invent new process.
Q5: What's the role of social networks for the creative economy?
There's no short answer to this question. Social networks are the most impactful [sic] innovation brought to the design world. It changes the dynamics of how things are made and also how things are shared and distributed. For example, if something goes on YouTube, it's suddenly global. And people don't care if it's a billion dollar project or a 0 budget hand-made video. The only thing that matters is if it's fun and new or not. There's an equal chance for every designer in the world now. It's scary to some, but encouraging to more. The size of the brand or the size of the budget doesn't matter, but the size of the idea is what matters most. I love being a designer in such an era. Our challenge as professional designers is to think and find a way to legitimize the power of creativity in this kind of climate.