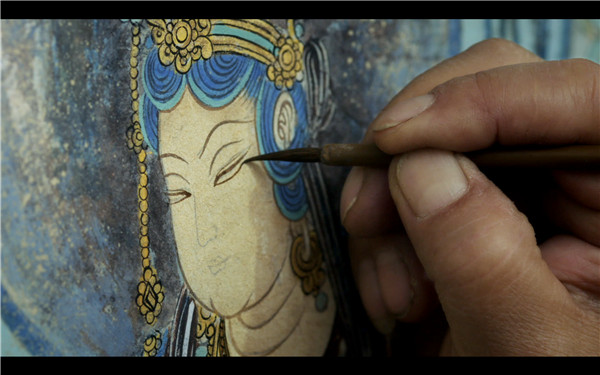 Scenes from the TV documentary The Four Treasures of the Chinese Study offer an insight into China's cultural legacies and their influences today. [Photo provided to China Daily]
Wu Si, the documentary's director, says that in one episode highlighting the craft of making paper, more than 40 men immerse a giant bamboo sifter in white pulp and lift it out altogether. They are making a piece of Chinese rice paper-11 meters long and 3.3 meters wide-that is listed as the largest handmade paper by Guinness World Records.
In another take, a veteran maker of ink slabs is reminding transport workers to cautiously load a gigantic slab, with a diameter of 2.1 meters and weighing 7 tons, which took him six years to carve out from a rock.
Despite typing dominating the digital era, writing with ink brushes remains a hobby for the enthusiasts of Chinese traditional culture.
In the documentary, viewers can see many such instances: A calligrapher insists on using centuries-old ink slabs for the best strokes; a researcher scatters golden powder on flower-soaked rice paper to produce a special type of paper meant for writing letters, which is said to have been invented by a Tang Dynasty (AD 618-907) female poet.
In the chapter that introduces the international spread of the "four treasures", Chinese may feel proud to see paper, one of the country's greatest inventions, travel from its neighboring countries to Europe.
To seek the best visual effects, Wu says they used a high-resolution photography technique which provides clearer images.
"It's worthy. We hope the series will arouse public interest in traditional Chinese culture," says Yu of Anhui Broadcasting Corp.
The documentary also lifted CCTV Channel 9's audience rating to 5.3 percent compared to the week before its debut, says Yu.
The producers are considering its overseas distribution, too.
The Four Treasures of Chinese Study also garnered attention at this year's MIPTV, a content market event held annually.
Contact the writer at xufan@chinadaily.com.cn