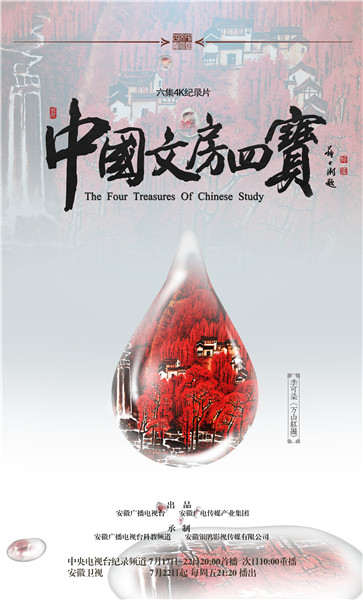 The budget of the documentary was nearly 10 million yuan ($1.5 million). [Photo provided to China Daily]
With a budget of nearly 10 million yuan ($1.5 million), provided mainly by the Anhui Broadcasting Corp, the crew traveled to nearly 20 provinces, regions and municipalities across China, as well as Japan, South Korea and Italy, to trace the footprints of the four tools of Chinese scholarship.
The documentary that re-creates the legends of nearly 30 historical figures, took more than 450 days to shoot, during which around 60 people were interviewed-from producers and researchers to collectors.
"Many documentaries have featured the tools that Chinese scholars used in earlier times. Our biggest challenge was to seek a breakthrough," says Yu Chengming, deputy editor-in-chief of Anhui Broadcasting Corp.
"The 'four treasures' are still objects. We needed to add human interest to make the content attractive to modern audiences," says Yu, a veteran who has produced more than 30 TV documentaries in his career.
Seeking to explain the history, culture and emotional connections of such tools to modern society, the crew visited a number of museums, the descendants of prominent calligraphers, painters and makers of calligraphy materials. They harvested a lot of novel sequences in the episodes.