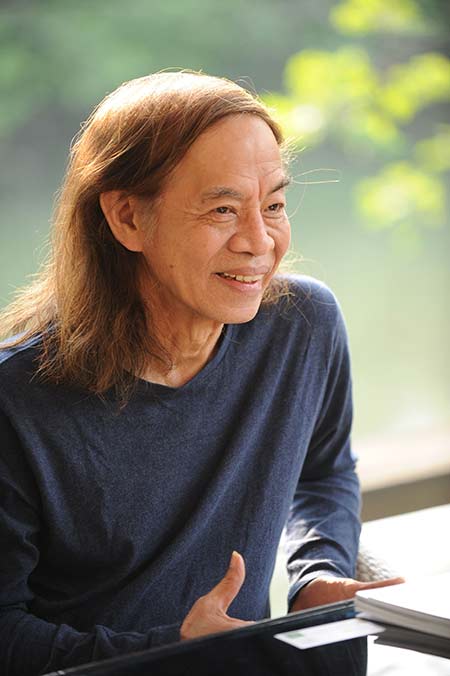 Tsai Chih-chung, a well-known cartoonist from Taiwan, has published a biography titled Genius and Master: The Cartoon Guru Tsai Chih-chung's Legendary Life. The cartoon, drawn by Tsai, shows him and figures from his popular comic works. Photos provided to China Daily
Cartoonist Tsai Chih-chung's decadeslong work has been inspired by ancient Chinese philosophy and history, as his biography reveals. Wang Kaihao reports.
During a telephone interview, Tsai Chih-chung suddenly stops to ask me: "What is your date of birth?" I tell him the date and the year and without a moment's hesitation he says: "It was a Sunday."
The 68-year-old artist from Taiwan is both sharp and versatile. So It is difficult to do him justice with a brief introduction.
An author, who has published several books since May 2015, he is also an animator who has won a Golden Horse, one of the most coveted awards in Chinese cinema, for kung fu comedy Older Master Q in 1981.
A bridge champion, he even spent a decade studying theoretical physics.
But, above all, he is a cartoonist.
More than 40 million copies of his books have been sold in more than 40 countries and regions.
Speaking of his pursuits, he says: "Many people ask me: 'If you could turn back the clock, would you have done something else instead of being a cartoonist?'. Well, is there anything sweeter than realizing your dream?"
For Tsai, who quit school at the age of 15 to move to Taipei, his career as a cartoonist did not follow an "orthodox" path.
In spite of starting his career with four-panel cartoons, the man from Taiwan's Changhua county, gained fame not by creating a superhero franchise but by using ancient Chinese philosophy and history.
In 1985, he began doing comic books to explain the work of Chinese philosophers, including Laozi, Liezi and Zhuangzi.
Revealing how he ventured into being a cartoonist, Tsai says: "In 1985, I had an animation company that had been in operation for seven years and I owned three properties.