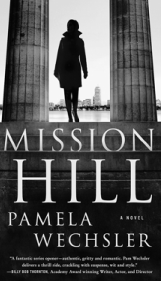 Pamela Wechsler's new book will attract fans of legal thrillers.[Photo provided to China Daily]
Screenwriter, TV consultant and former prosecutor Pamela Wechsler skillfully eases into Mission Hill, her debut legal thriller featuring the intriguing Abby Endicott, chief of the Boston district attorney's homicide unit.
Wechsler's multilayered plot realistically touches on legal ethics, political intrigue and construction double-dealings with aplomb and plenty of twists.
Abby says she wants to handle gangbanger Orlando Jones' trial when fellow prosecutor Tim Mooney is murdered the night before he is to deliver his opening statement. This case is fraught with personal entanglements for Abby.
Abby blames Orlando for the death of her best friend 17 years before; she and Tim had a long-running affair that continued after his marriage. She's all too aware that her involvement could derail the prosecution and jeopardize her career.
Abby is sure Orlando ordered Tim's execution-style murder, but she begins to doubt her colleague's decisions. An investigation into a construction scandal that targeted Orlando's wealthy builder father, Melvin, was halted. Abby also finds evidence suggesting Tim may have been working with the FBI.
Abby begins to wonder how far corruption has infiltrated the district attorney's office, and who can she trust.
The believable plot of Mission Hill excels, complemented by the intrepid Abby, who guards her many secrets and emotional baggage and is constantly at war with her wealthy family over her choice of career.
While Wechsler loads the Harvard-educated Abby with a myriad back story, the character is convincing as a prosecutor who loves her job and believes that justice trumps winning.
But Abby's refusal to pay the monthly maintenance on her apartment-a running side plot-comes off as silly.
Mission Hill gives Boston a good workout, from Jamaica Plain to Roxbury to Beacon Hill.
Wechsler's strong storytelling fits well into the legal thriller genre and should attract fans of Linda Fairstein, Alafair Burke and Lisa Scottoline.