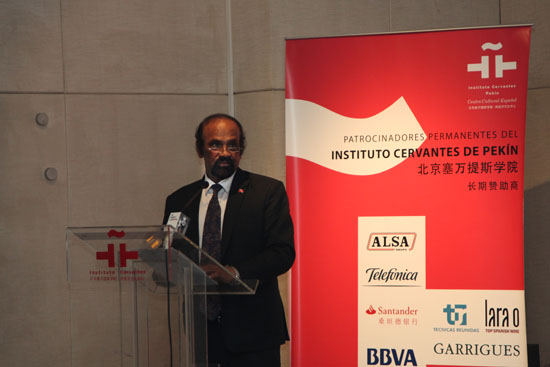 Trinidad and Tobago Ambassador to China Chandradath Singh delivers a speech at the launch ceremony of Caribbean Film Festival on May 6, 2016. [Photo/culturalink.gov.cn]
One of the 2016 China-Latin America Cultural Exchange Year events - the Caribbean Film Festival opened at Instituto Cervantes in Beijing on May 6, 2016.
The film festival is co-hosted by China's Ministry of Culture, Bahamas Embassy, Barbados Embassy, Jamaica Embassy and Trinidad and Tobago Embassy in China. Guests from China's Ministry of Foreign Affairs and the Latin American embassies attended the opening ceremony. After the ceremony, the Bahamian movie Trailblazers directed by Gina Sealy was screened.
A total of 12 movies were screened for the public during the film festival from May 6 to 8, with the aim of letting more Chinese people learn about Caribbean countries' culture.
A series of cultural events will be held throughout the China-Latin America Cultural Exchange Year, including art exhibitions, seminars, films, food festivals, and tourism promotions.