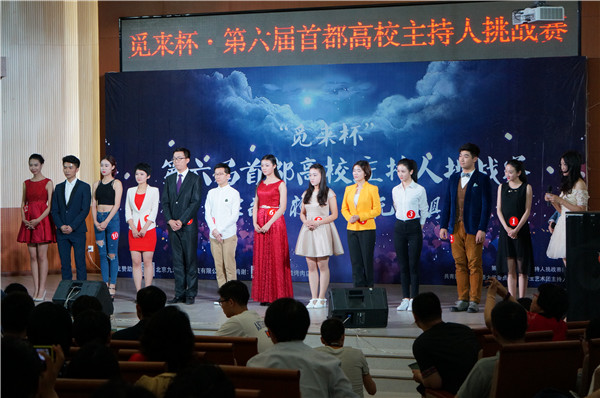 The 12 finalists returns to stage after the first round. [Photo by Ruan Fan/chinadaily.com.cn]
A junior from Communication University of China walked away with the top prize at the finals of the sixth Beijing Universities Host Competition held at Beijing Foreign Studies University on May 8.
"Before I arrived tonight, I even thought about quitting the competition, because everyone else is so competitive, with their different backgrounds and hosting skills," Chen Jiaoyi told China Daily website after the competition, adding that she felt lucky to have won.
The 12 finalists, who came from eight universities, took part in the three-hour competition that included a live performance aided by video clips in the background, debate, story-telling and finally live hosting.
Contestants floored the judges with their witty talk and quick thinking, and their carefully prepared creative talent shows were quite a delight for the audience.
The competition turned red-hot during the debate round, when Jia Hao from Renmin University of China and Zhong Zhiyao from China Women's University argued whether university students' innovative undertaking should be encouraged.
The audience got emotional when Jia beat Zhong with a single vote, crying out for both contestants to go into the third round.
Xu Jinqi, one of the judging panel members and a senior producer and journalist from China Central Television, calmed the audience down saying that this was just a competition, not the end of the world.