Jianbing team ready to take egg pancakes abroad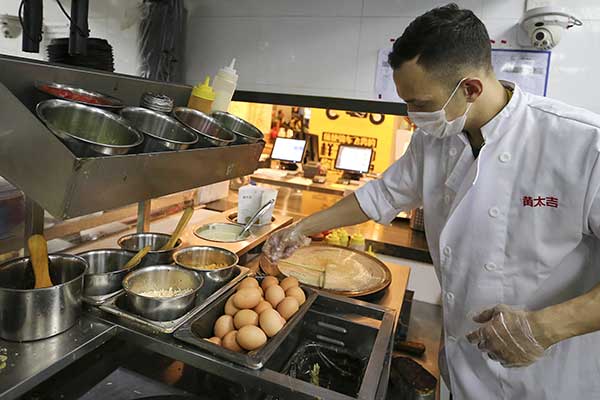 American Jeff Torres makes jianbing at a kitchen of Huangtaiji, a food chain built on the humble egg pancake.[Photo by Wang Zhuangfei/China Daily]
Most fast-talking guys from the US state of Florida are selling beachfront condominiums or time shares.
Jeff Torres wants to sell you a jianbing.
You may have seen his face today, grinning from the sides of Beijing delivery scooters, shopping centers and subway stations. The 30-year-old is the public face of Huangtaiji, a food empire built on the humble egg pancake.
Launched in 2012, the company now operates more than 30 restaurants in Beijing and about 10 in Shanghai, with plans to jump abroad for the first time this summer with a restaurant in Sydney. With individual orders totaling as little as about 35 yuan ($5.37), the company was generating more than 6 million yuan in sales per month by December 2015. The fast-food product even appeared in last year's superhero parody film Jianbing Man.
It was a Chinese entrepreneur groomed at Google and Baidu, 33-year-old He Chang, who saw potential innovation in the popular street food.
"I went from those high-tech companies to advertising and then finally to restaurants," says He, the founder and No 1 in a partners' group that now numbers seven. (Torres is No 6 and the only foreigner.)
"Fast food was a new thing for China after the opening up," says He. "KFC and McDonald's came in quickly and grew fast at first, but I saw a place for something that Chinese people could relate to better."
From the simple jianbing, He and his team quickly branched out into other quick-to-make fare. The second brand in the Huangtaiji family is Niu Dun, with a menu of stews and similar dishes. Next came Da Huang Fung, storefronts that offered hot pot.
"It's really a China dream," says He, who utters the popular phrase without making it sound like a cliche. He says most of his customers are between 25 and 35, many part of startups and looking for startup magic of their own. "They are making a good income," he says, "but they also like to grab a quick lunch that only costs about 30 to 40 yuan."