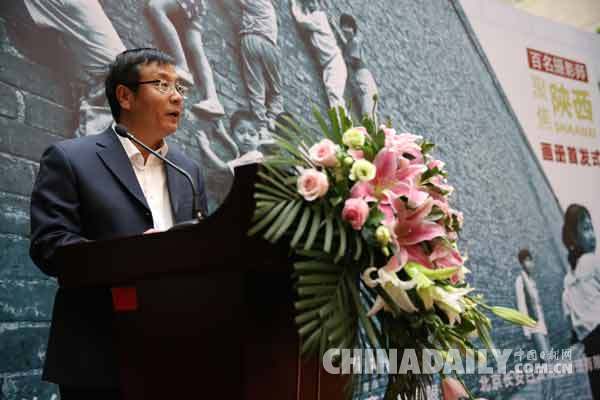 Kang Bing, deputy editor-in-chief of China Daily, delivers a speech at the launching ceremony. [Photo/chinadaily.com.cn]
The latest edition to China Daily's Focus photo album series, One Hundred Photographers Focus on Shaanxi, was launched in Beijing on Friday.
The album consists of more than 200 photos by 118 photographers from across the country.
It not only focuses on the history and culture of Northwestern China's Shaanxi province, but also on the economic and social gains it has achieved since the initiation of the reform and opening-up policy.
"Shaanxi is the cradle of Chinese nationality and the Yellow River runs through the region", wrote Zhu Ling, publisher of China Daily, in the album's preface, "The photo album appropriately demonstrates the region's progress in history, material life and people's lives."
"As the starting point of the ancient Silk Road, Shaanxi province takes an essential position in the Belt and Road initiative," said Li Wei, deputy director of the Publicity Group of the Shaanxi Provincial Party Committee during the ceremony.
"Economically, Shaanxi has reached the moderately developed level among China's provinces with great potential in the future," he added.
The latest photo album was sponsored by Yonghong Group, Shaanxi GLAX and the Beijing Chang'an Baiyun Hotel.
The One Hundred Photographers Focus photo album series, which has won two China National Book Prizes, was created by China Daily.
Mainly compiled by Wang Wenlan, China Daily's assistant editor-in-chief and vice-president of the China Photographers' Association, the series brings the best minds in photography together to focus on a certain international event or life in one place, whether it's a city, a region or a country.
Ten books in the series have been published so far.
Related: Zooming in on Shaanxi