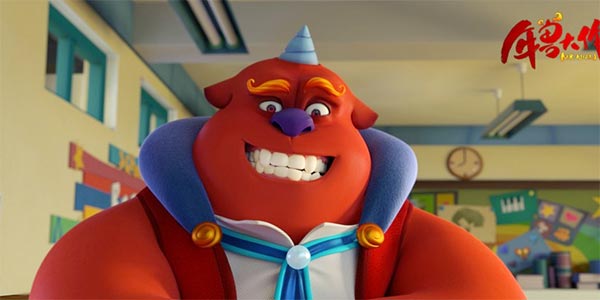 A screen from Mr. Nian. [Photo/Mtime]
China's mythology depicts Nian (Year) as an evil monster, which attacks humans on the eve of Chinese Lunar New Year. Interestingly, the centuries-long stereotype gets a twist in an upcoming animated movie.
Mr. Nian, which will open to the mainland theaters on Feb 8, narrates the title role's adventure in the human world. Set as a celestial being, Nian unites his heaven fellows to fight against a fish villain, which tries to destroy the Spring Festival.
Producer Xia Chen'an says the movie vows to establish an influentially animated character originated from Chinese culture and tradition.
"Most of the Chinese children nowadays have grown up with the memories of classic Hollywood animated characters," Chen says.
"I believe they will have their own animated idols created by domestic filmmakers," Xia says.
Liu Yiwei, a pop host-actor who plays the celesial being Tai Bai Jin Xing, hopes the movie will popularize the folklores of Nian and Spring Festival to the overseas market.
With a stellar cast, the comedic feature has up to 12 stars voicing the main characters, such as actors Lei Jiayin and Chen He.
Related:
Insider: China to surpass US to be top film market in two years
Hollywood blockbusters dubbed in Mandarin drawing more viewers