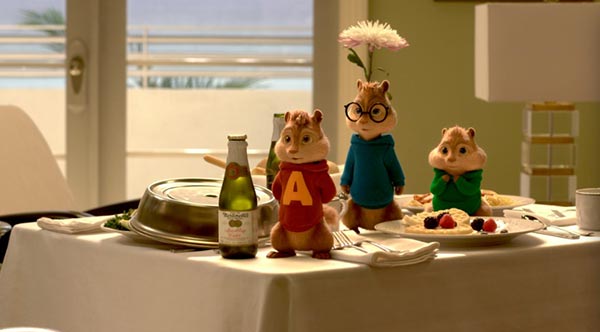 A screen shot from Chipmunks: The Road Chip. [Photo provided to China Daily]
For most Chinese moviegoers, watching the original version is their first option when it comes to Hollywood blockbusters.
However, a recent smash hit shows a rising fondness for versions dubbed in Mandarin.
Alvin and the Chipmunks: The Road Chip, the fourth installment of the 20th Century Fox's animated franchise, has won huge popularity since it has opened to Chinese mainland cinemas on Jan 26.
But domestic media reports say that the version dubbed in Mandarin is more popular than the English version.
"The dialogues are funny and the movie feels friendly and natural, when the human characters or the animated chipmunks use Mandarin slang," says Zhu Yue, a Beijing housewife who took her daughter to watch the movie.
Latest figures from the box office tracker Cbooo.cn show the movie has grossed 46 million yuan ($7 million) to take the second spot of the animation box office charts, following DreamWorks Pictures' Kung Fu Panda 3.