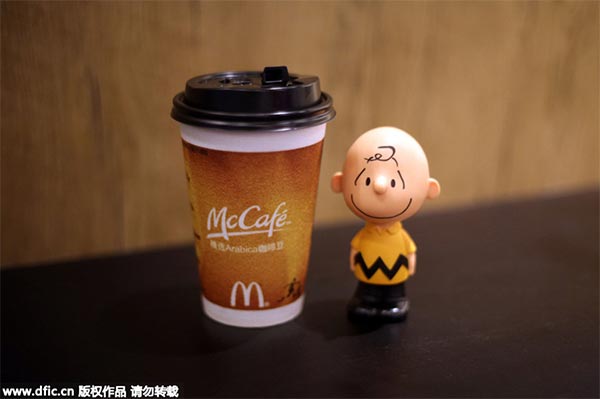 Charlie Brown and McCafe. [Photo/IC]

Snoopy: The Peanuts Movie is a box-office hit in China, and fast food chain McDonald's has joined hands with the movie's makers to launch a Snoopy-featured menu, which comprises a Thai pulled chicken burger and a Sichuan pulled pork burger.
McDonald's in Chaoyang Park Road recently held a tasting event for the new menu.
The Thai pulled chicken burger uses black bread that gets its color from squid meat powder, and the white Sichuan pulled pork burger uses bread with low sugar.
The chicken and pork used in the burgers are flavored with an authentic Thai sweet and chilli sauce and Sichuan sauce, respectively.
The new menu also includes roasted chicken wings and white and black pie.
The restaurant chain plans to launch a Christmas set menu.
Related: