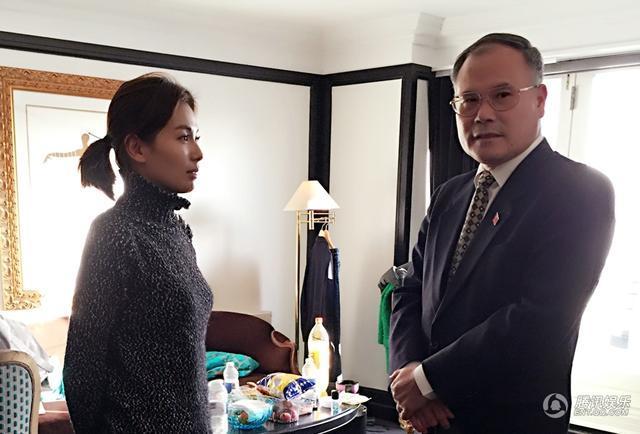 Chinese Ambassador Liu Biwei (R) pays a visit to Liu Tao (L) at her hotel. [Photo/Tencent]
Copenhagen police have taken a Polish man into custody for 13 days after he was accused of stealing a safe, which contained valuables worth four million yuan ($623,600) and some cash, from the hotel room of Chinese actress Liu Tao in Denmark.
According to Liu's Sina Weibo account, she left her room at First Hotel Kong Fredericin the afternoon of Dec 6, local time. When she returned, the safe and all contents within, including jewelry worth four million yuan and some cash, had vanished.
"The entire safe has been stolen! It's awful! Please help!" Liu wrote in a post on Dec 7. Liu also posted a photo of the hotel room card along with her post.
At the time of her post, Liu said the local police had not arrived at the scene, and her calls to the local Chinese embassy could not be connected.
Copenhagen police intervened shortly afterwards, and the Chinese Ambassador to Denmark Liu Biwei paid a visit to the actress himself.
The suspect was arrested on Dec 7 along with the stolen goods.