China's Yao Chen on the cover of 2016 Pirelli calendar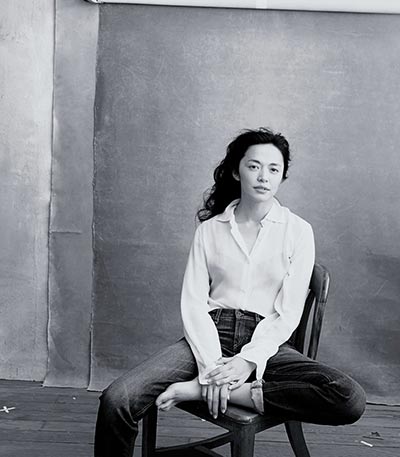 Actress Yao Chen is featured in the 2016 Pirelli Calendar. [Photo/Sina Weibo of Pirelli]
The Pirelli calendar, widely known for is racy pictures of sultry models and celebrities, has shifted its focus from naked bodies to women's inner strength.
The annual calendar, published by the world's fifth-largest tire manufacturer, has moved its 2016 calendar to a new and rather awesome direction. Pirelli itself teased the new calendar in a short video clip on Twitter, which promised "a radical and inspirational departure from previous years."
Instead of models, candid portraits of powerful, inspiration women are featured, including the likes of Chinese actress Yao Chen, tennis player Serena Williams, comedian Amy Schumer and singer-songwriter Patti Smith.
Renowned female photographer Annie Leibovitz shot the photos this year under the theme "less skin, more skills".
Yao, who is on the cover of this year's calendar, is not only a prominent actress in China, but also an active player in philanthropy. She was named as UNHCR's Honorary Patron for China in 2011. In 2014, Time magazine included her on the list of 100 global celebrities. The Fujian-native was also listed as the 83rd most powerful woman in the world by Forbes in 2014.
According to Yao's official Sina Weibo account, the 13 women from varied genres featured in the 2016 calendar were hand-picked by Leibovitz herself.
"I started to think about the roles that women play, women who have achieved something. I wanted to make a classic set of portraits. I thought that the women should look strong but natural, and I decided to keep it a very simple exercise of shooting in the studio," said Leibovitz in a statement.
"This calendar is so completely different. It is a departure. The idea was not to have any pretence in these pictures and be very straightforward. Needless to say, those looking for tropically set nude photos are in for a surprise."
The line-up also includes artist Yoko Ono, fashion blogger Tavi Gevinson, Golden Lion winner Shirin Neshat, entrepreneur Mellody Hobson, model Natalia Vodianova, author and public speaker Fran Lebowitz, director Ava DuVernay, philanthropist Agnes Gund, and producer Kathleen Kennedy.
The Pirelli calendar, first published in 1963, is known for its limited availability. Only 20,000 copies are printed each year. The calendars do not go on sale and are only given as corporate gifts to a restricted member of Pirelli customers and celebrities.