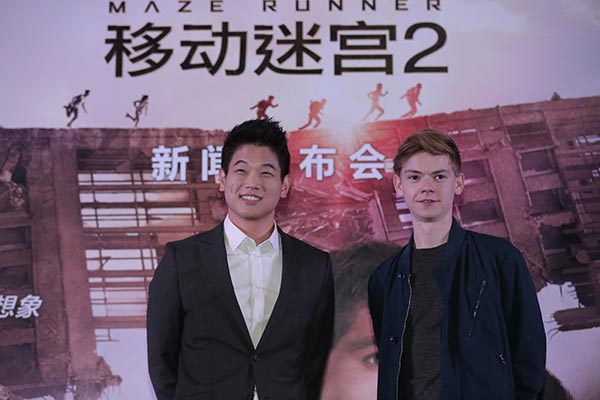 Thomas Brodie-Sangster (right) and Ki Hong Lee appear at the promotional event in Beijing. [Photo provided to China Daily]
The North American box office hit
Maze Runner: The Scorch Trials
will hit screens on the mainland on Nov 4.
A sequel to the dystopian sci-fi thriller Maze Runner franchise, The Scorch Trials follows the protagonists' adventures after they are rescued from the maze by a mysterious organization.
The coming-of-age action fantasy film, which opened in North America in September, has so far grossed $268 million. It cost $61 million.
The producers expect the film to perform strongly on the Chinese mainland given the popularity of the first installment.
The films are based on the hit namesake novel series by James Dashner.
Two of the film's lead stars — Thomas Brodie-Sangster and Ki Hong Lee — appeared at a promotional event in Beijing recently.
Hollywood sees China as its most important market in Asia after the country surpassed Japan to become the world's second-largest film market in 2012.
Speaking to the Chinese media, Sangster and Lee, both youth idols in the United States, talked of some of the issues they faced while filming.
Sangster said: "The biggest challenge was shooting in places which were very dry and which lacked oxygen. On the mountains it was freezing cold … it was quite a tough especially when we were shooting late in the night."
For Lee, the best part of the sequel was about a gang of youths struggling to survive in a "terribly crazy world".
Lee says that fantasy movies with themes of fighting against the evil have significance as they can inspire youth to contribute to world safety and stability.
The 20th Century Fox production is distributed by China Film Group Corporation and Huaxia Film Distribution Company.
Related:
Romance in the sky gets viewers interested