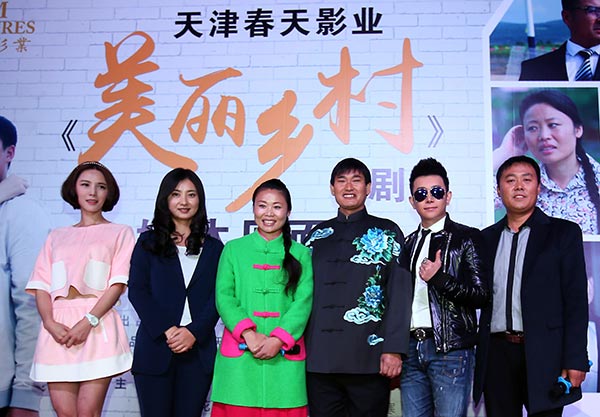 Cast members of Beautiful Village. [Photo provided to China Daily]
Contestants from the most famous China Central Television (CCTV) talent show
Xingguang Dadao
firstly join a Television drama
Beautiful Village
. Starred by Liu Dacheng, champion of the
Xingguang Dadao
in 2010 and Lanxi, acted Shen Meizhuang in the
Empresses in the Palace
,
Beautiful Village
tells a successful story of a college students. After his graduation, he returns to the area he comes from and becoms a village official. He guides his fellow villagers to work for a better life.
Beside Liu Dacheng, other contestants, such as "Straw-hat sister" Xu Guihua, "Overcoat brother" Zhu Zhiwen, "Vegetable granny" Zhang Xuemin also participate in the TV series.
Xingguang Dadao is a Chinese state broadcaster CCTV talent show from 2004 on wards. Named after the Chinese name for the Hollywood Walk of Fame, it was a very popular talent show in China. The host are Zhu Jun and Nigemaiti. Contestants included singers with more social values, such as blind singer Yang Guang in 2007.
Related:
TV and online media-cooperating for a thriving future